FOX Sports KC ratings on rise for Royals
FOX Sports KC ratings on rise for Royals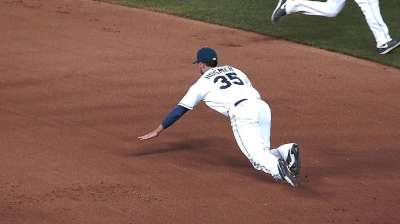 KANSAS CITY -- The ratings for Royals games on FOX Sports Kansas City are up 43 percent this year, reflecting the biggest improvement in the Major Leagues according to Nielsen Media Research.
The Royals games on FOX Sports Kansas City are averaging a 5.8 household rating in the Kansas City designated market area and are on track to beat last year's 3.8 season average, which was the highest ever for Royals cable telecasts.
This season, Royals viewership ranks seventh in MLB local market TV ratings at the break after finishing 15th last year.
"There is a heightened level of excitement around and interest in Royals baseball, and that shows in the increased viewership," said FOX Sports Kansas City general manager and senior vice president Jack Donovan.
The top five highest-rated Royals games on FOX Sports Kansas City have all been this season and the most popular game was June 11 against Detroit -- a 3-2 Royals loss -- which averaged an 8.8 rating and peaked at 11.2 (104,000 households). With 16 night games in June, FOX Sports Kansas City ranked No. 1 on 11 of those nights and beat the NBA and NHL Finals.
Dick Kaegel is a reporter for MLB.com. Teddy Cahill is a reporter for MLB.com. Follow him on Twitter at @tedcahill. Kathleen Gier is an associate reporter for MLB.com. This story was not subject to the approval of Major League Baseball or its clubs.