Escobar unlikely to miss time after exiting game
Escobar unlikely to miss time after exiting game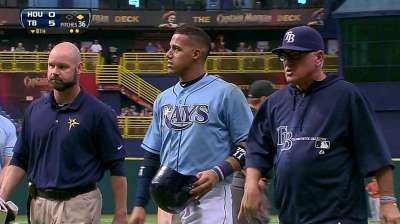 ST. PETERSBURG -- Rays shortstop Yunel Escobar left Sunday's 5-0 win over the Astros in the eighth inning with a mild right hamstring strain.
Escobar beat shortstop Ronny Cedeno's throw to first base on an infield single, but he pulled up after he ran through the base and left the game shortly thereafter.
Manager Joe Maddon said he didn't feel the injury was serious.
"In a different moment, I could have left him out there to play but chose not to," Maddon said.
Escobar missed four games in late April with an injury to his hamstring on the same leg, but Maddon said he doesn't envision Escobar missing time after the All-Star break.
"I think he's fine," Maddon aid. "He could have continued to play if he really needed to. He should be fine by the fifth day."
Sam Strong is an associate reporter for MLB.com. This story was not subject to the approval of Major League Baseball or its clubs.