After De La Rosa, Rox' rotation unsettled
After De La Rosa, Rox' rotation unsettled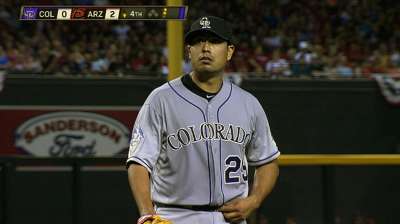 LOS ANGELES -- Rockies left-hander Jorge De La Rosa will start Friday's game against the Cubs to open the season's second half, but manager Walt Weiss is still unsure how the rest of the rotation will unfold following the All-Star break.
While it is possible the Rockies will keep their rotation in its current order, Weiss is also pondering a few tweaks.
"We may make a bit of an adjustment, just to split up our left handers," Weiss said. "It'll be De La Rosa to start, we'll stay in line that way, but we may change it up a little bit the rest of the rotation. Split up the lefties, split up the young guys, that type of thing."
Regardless of how it all shakes out, Weiss and the Rockies simply hope the rotation builds off the momentum it has generated recently.
Highlighted by Tyler Chatwood's eight-inning complete game on Saturday, the Rockies rotation has posted a 2.35 ERA in the past seven games before Sunday's first-half finale against the Dodgers.
In the last seven games, the Rockies rotation has thrown 38 1/3 innings while allowing 10 runs and holding opponents to a .204 batting average.
"I'm encouraged by the way we played and the way we competed and the way our pitchers -- our starters in particular -- have performed," Weiss said.
William Boor is an associate reporter for MLB.com. This story was not subject to the approval of Major League Baseball or its clubs.