Astros blanked by Rays in first-half finale
Astros blanked by Rays in first-half finale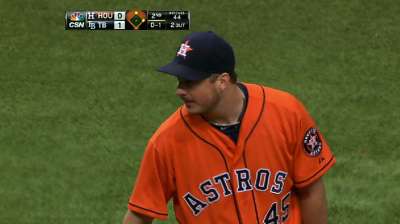 ST. PETERSBURG -- The Astros' struggling bats were no match for Chris Archer. The Rays starter notched his first career shutout, yielding just five hits and striking out eight on 112 pitches.
Archer (4-3) only let one Astros runner reach second base and reached 97-mph on his fastball in the ninth inning.
"This meant a lot, because my past couple of games I felt strong, strong enough to continue to pitch deep in the ballgame," Archer said. "I've never pitched into the eighth inning before in my career -- Major League, Minor League, Little League, whatever. ... It was cool.
"They had faith in me to go deep. This is the best game I've ever pitched in my life, so it means everything."
Meanwhile, Astros starter Erik Bedard fell to 3-6 after laboring through five innings on 109 pitches. He gave up three runs (two earned) and eight hits while striking out six.
"I battled every inning. They fouled off a lot of pitches and got the pitch count up," Bedard said. "It was hard to find a groove when there was always somebody on base."
He also had a throwing error on Jose Lobaton's bunt in fourth inning that allowed Kelly Johnson to score from first and give the Rays a two-run lead.
"I just made a bad throw," Bedard said. "I threw the ball to first, and it ended up in right field. I tried to limit the damage from there."
After the Astros took early leads in the first two games of the series, the Rays flipped the script Sunday when Evan Longoria's two-out double scored Desmond Jennings to give the Rays a one-run lead in the first.
Lobaton moved to second on Bedard's error in the fourth and advanced to third on a single by Yunel Escobar. He would score to make the game 3-0 when Jennings grounded into a double play.
In the sixth inning, Jennings put the game out of reach, hitting a two-run, 417-foot homer over right-center off Paul Clemens to give the Rays a five-run lead.
"You want to play every day. The whole team wants to play every day. But it's a good time for us to take a few days off and rest up and come out ready for the second half," said Jennings of the Rays' 14-2 July run.
The Astros stumble into the break with the worst record in the Majors. Manager Bo Porter said before the game that there were a lot of positives to build off of going into the second half, and after Sunday's loss he remained optimistic.
"These guys come to the ballpark each and every day. They play hard," Porter said. "We've been in a lot of games that we haven't been able to pull out. As we move forward in this second half, I think we will find a way to start to win a lot of those games."
In order to win more games, Houston will have to find better production at the plate. The Astros hit .204 (19-for-93) in this series and were held scoreless in 25 of the 27 innings.
Porter expects the bats to come around and said that his team just ran into some great pitching.
"I think you have to tip your cap to the guys they put out on the mound," Porter said. "[Archer] was excellent today, and it was more about him than it was about anything else.
"Anytime you have a guy take the mound and have the kind of performance Archer had today, it would make any team look like they don't have a lot of energy."
Rays manager Joe Maddon was equally impressed with Archer.
"Our pitching is very, very important," Maddon said. "We're not going to go to the World Series this year if we don't pitch to the level that we're capable of.
"Today, [Archer] had the kind of game that a young starter could really grow from. We're getting back to what we know this staff can do. It's really fun to watch."
Corey Long is a contributor to MLB.com. This story was not subject to the approval of Major League Baseball or its clubs.