Price gives All-Star Moore vote of confidence
Price gives All-Star Moore vote of confidence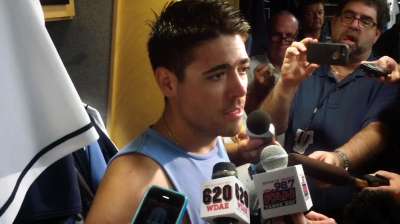 ST. PETERSBURG -- At the season's outset, few Rays fans would have predicted last season's American League Cy Young Award winner would have three days off for the All-Star break.
Even fewer would have guessed that one of Tampa Bay's least experienced starters would be headed to New York City for the Midsummer Classic, but that's exactly the way it has shaken out, as David Price will miss the game for the first time since 2009, while Matt Moore will attend for the first time.
Price -- who started in Anaheim in 2010 and went to Arizona in 2011 and Kansas City in 2012 -- shared some advice with his locker neighbor before Moore took off for the Big Apple.
"The main thing is to have fun," Price said. "This is his first experience with something like this, and it can be heavy at times, but being on the East Coast will be better for him, because when you have it on the West Coast, you have to start everything so much earlier. I know he'll have time to sleep in and hang out with his family. That will be good for him."
Moore has carried the load for much of the first half, becoming the second pitcher to win 13 games before the break, while Price missed time with a left triceps strain.
"He's done extremely well," Price said of Moore. "He has definitely commanded his fastball better, and he's gone deeper into games. He knows he can still get much better.
"Last year, he was kind of looking all over the place. This year, he's 100 percent focused on every pitch, and that's why he's been able to put up the numbers he has been. That's why he's an All-Star."
Sam Strong is an associate reporter for MLB.com. This story was not subject to the approval of Major League Baseball or its clubs.