Iwakuma holds off Halos to complete sweep
Iwakuma holds off Halos to complete sweep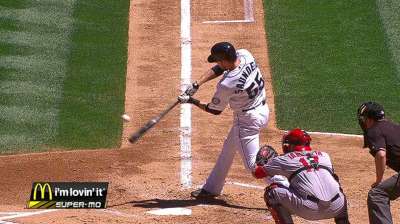 SEATTLE -- Hisashi Iwakuma got back on track with a good start against the Angels, going seven innings as the Mariners beat Los Angeles, 4-3, to earn their first sweep of the season in front of 25,629 at Safeco Field.
"That's a big win for us, especially going into the break. It's something we haven't done this year," manager Eric Wedge said. "It's hard to win a series, it's real hard to sweep, whenever you do that, you make up some ground. A lot of good things have happened here the last three days, the last two or three weeks and you can see where these guys are headed."
Iwakuma had his best start since mid-June as he improved to 5-0 against Los Angeles. Entering Sunday's game, the Japanese righty had given up at least four earned runs in his previous five outings.
Even with his recent struggles, Iwakuma has been a revelation for Seattle, going 8-4 with a 0.94 WHIP and a 3.02 ERA in the first half of the season.
"I tell you this, I voted for him for the All-Star Game," Angels second baseman Howie Kendrick said. "That says a lot about the guy. He competes every time out there and competes against us every time. He has pitched well against the league, too. Congratulations to him for the All-Star Game."
Because of the length of his start on Sunday, the first-time All-Star will not actually pitch in the 2013 MLB All-Star Game on Tuesday. Greg Holland of the Royals will take his place. Still, the second-year player is looking forward to the experience.
"First and foremost I'd like to enjoy myself and the environment and that atmosphere that comes along with being an All-Star," Iwakuma said through interpreter Antony Suzuki. "Obviously, we have the best talent that comes and forms a team at the All-Star Game, so there's a lot to learn from their talent and their abilities."
It didn't take long for the Mariners to extend their club record of 22 consecutive games with a home run. Justin Smoak reached on a single in the second inning, and Michael Saunders followed with a homer to right field to give Seattle a 2-0 lead.
After struggling most of the season, Saunders has picked up a hit in 15 of the team's last 18 games, a key reason for the team's recent offensive resurgence. He's currently riding a seven-game hitting streak in which he's hit a home run, a triple, and three doubles.
"It was a long slump for me, I know that," Saunders said. "There was a time when I wasn't swinging at the ball, and then I was swinging at the ball, but I just wasn't putting good swings on it and that's when I needed to make adjustments."
Seattle built the lead in the fourth. After Kyle Seager singled, a walk from Smoak got him to second and he advanced to third by tagging up on Saunders' deep fly out. Catcher Mike Zunino hit the ball to deep right field for the sacrifice fly to score Seager and put the Mariners up, 3-0. Seager's single extended his hitting streak to 14 games.
The Mariners loaded the bases in the fifth, but only scratched one across when Brad Miller scored on Raul Ibanez's double, giving Seattle a 4-1 lead. Ibanez's hit knocked Los Angeles starter Joe Blanton from the game, but reliever Michael Kohn was able to strike out the side to prevent further damage.
The Angels pushed a pair across in the sixth when Alberto Callaspo hit a bases-loaded single to score Mike Trout and Howie Kendrick with two outs. The single also pushed Mark Trumbo to third, but Iwakuma recovered to strike out Chris Iannetta to end the inning.
He rebounded in the seventh with a 1-2-3 inning to get Seattle through the first two batters in Los Angeles' lineup before turning the game over to the bullpen.
"It's important because the momentum was going towards them and you know you want to stop that momentum going back out there in the seventh inning," Iwakuma said. "Bringing a zero again was big for me and I think it was big for the win today."
Los Angeles threatened to tie or take the lead in the eighth when Albert Pujols hit a leadoff double off Charlie Furbush, who started the inning in place of Iwakuma. But the reliever stranded Pujols with three straight outs, including a strikeout of Trumbo, who had hit a solo homer off Iwakuma earlier in the game, to end the inning.
Closer Tom Wilhelmsen pitched a perfect ninth to pick up his 19th save of the season.
Jacob Thorpe is an associate reporter for MLB.com. This story was not subject to the approval of Major League Baseball or its clubs.