Machado heads to NY after impressive past year
Machado heads to NY after impressive past year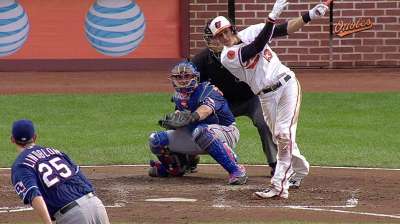 BALTIMORE -- A year ago, Manny Machado was playing shortstop for Double-A Bowie and learning third base. Now, he's headed to the All-Star Game in New York after Sunday's finale against Toronto as one of the best third basemen in the Major Leagues.
Times certainly have changed very quickly.
Machado's been a pleasant surprise since the Orioles called him up from Bowie to play third base, not shortstop, last August. His defense has been tremendous from the start, but his offensive skills are really showing this season.
Machado enters the first-half finale hitting .311 with seven homers, 45 RBIs and a baseball-best 39 doubles.
"Hard work pays off," Machado said. "And you get a reward for it. I'm just really blessed about it. This team, they've really helped me out a lot in everything I've ever asked."
Orioles manager Buck Showalter said he's certainly enjoyed watching this young player evolve into something special.
"It's been fun to watch," Showalter said. "It's been a great moment in his life. He doesn't take it for granted. We'll all kind of look at him when he comes back, and we'll all kind of live through him a little bit. It's like Billy Martin told me a long time ago: 'Try as you may, you can't screw up the good ones.'"
Jeff Seidel is a contributor to MLB.com. This story was not subject to the approval of Major League Baseball or its clubs.