Konerko begins rehab stint Thursday at Double-A
Konerko begins rehab stint Thursday at Double-A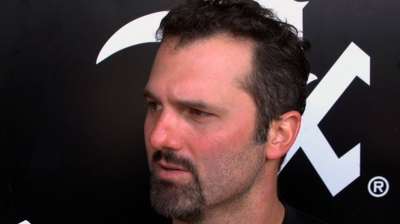 PHILADELPHIA -- Paul Konerko moves into the Minor League rehab phase of his recovery for his balky back, starting Thursday with Double-A Birmingham.
The White Sox captain plans to play from Thursday through Sunday with the Barons, testing the lower back strain that put him on the disabled list July 3, while also getting some at-bats. Konerko hopes to get in the field at first base as well.
"We've passed all the tests and all the work here and last week gave it time just to rest," said Konerko before Sunday's first-half finale. "That was the main thing and then this week kicked in all the strengthening stuff and pieced our way back into it.
"I'd probably be leaving today or tomorrow, but the All-Star breaks in the Minor Leagues as well throw off that plan. We definitely want to play days in a row and see how it responds and also for the baseball side of it, to get some at-bats, to see some pitches because I've been out for a while now."
Konerko originally missed six games because of the back soreness and then returned for one game against Baltimore on July 2. The captain couldn't make it through that contest at full strength and was then inactive until this past Monday. He's gradually increased his workload every day, moving to flips in Detroit and then taking batting practice Saturday in Philadelphia.
By Konerko's estimation, he's done everything possible as far as recovery and it's time to get back on the field. So the All-Star break serves as the start of his return, as opposed to time off.
"I don't really see the All-Star break as a break for me because I haven't been doing anything," Konerko said. "I've been doing the work and stuff, but I've had my All-Star break for the last two weeks or whatever it has been.
"Even the week before that, I played one game. Obviously if we could go back in time, we would have done this right from the get-go and then took the time the first day I came in. But we had that week where I was off and felt like it was 90 percent and got back out there that one game against the Orioles, and it just reset all the way back to square one and then we decided to take this long chunk of time to get it right.
"Hindsight is 20/20," Konerko said. "I've had my rest. I want to play."
This rehab assignment means Konerko will miss next weekend's Atlanta series in Chicago and the return of Braves hitting coach Greg Walker, holding the same role he held with the White Sox.
Scott Merkin is a reporter for MLB.com. Read his blog, Merk's Works, and follow him on Twitter @scottmerkin. This story was not subject to the approval of Major League Baseball or its clubs.