Scherzer would relish All-Star Game start
Scherzer would relish All-Star Game start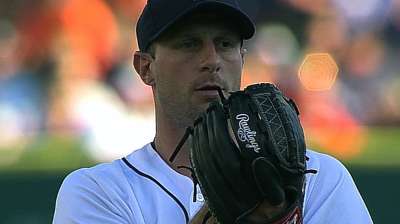 DETROIT -- While Max Scherzer may be a little disappointed after his first loss Saturday, he's still thrilled about traveling to New York this week for the All-Star Game.
"That's going to be fun," Scherzer said. "That's going to be a blast, especially as my first one. You always work hard to put yourself in the position to be there. Finally it's happened for me and I can't wait to go to New York."
Along with his 13-1 record, Scherzer owns a 3.19 ERA and entered Sunday second in the American League with a 0.98 WHIP (walks plus hits per inning pitched) and 152 strikeouts. Those statistics put him in consideration to start the All-Star Game for the American League on Tuesday.
"It would mean a lot," Scherzer said. "I just know how many great pitchers there are in the game and the other pitchers who are on top of their game right now and how well they are pitching. If I get the nod over those guys, it's a real nice moment."
Scherzer took a comebacker to his left wrist in the second inning Saturday and was wearing an ice pack before Sunday's game. X-rays came back negative.
Despite being unable to initially squeeze his hand and some concern from manager Jim Leyland, Scherzer says he can't imagine it being a problem for him going forward.
"Just one of those things you have to treat," Scherzer said. "I got hit by a baseball."
Bobby Nightengale is an associate reporter for MLB.com. Follow him on Twitter @nightengalejr. This story was not subject to the approval of Major League Baseball or its clubs.