Dropping first-half finale may be good omen for Bucs
Dropping first-half finale may be good omen for Bucs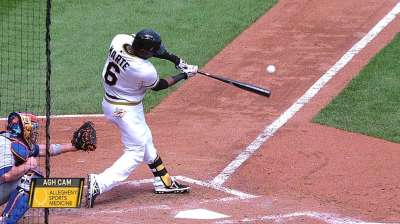 PITTSBURGH -- As the Pirates sailed on the high seas toward the isthmus of All-Star break, everyone was naturally as curious about how they will navigate the second half, as the Bucs are committed to doing it better than the last two years.
So their long-range hopes have changed. Not their long-range vision, however.
"We're not built that way. We're only concerned with what's in front of us," manager Clint Hurdle said. "We play today. Then we're done for four days."
Actually, they were pretty much done Sunday, too, when the wobble of their pinch-starter, Gerrit Cole, gave too much of an early advantage to Dillon Gee and the Pirates dropped the first-half finale to the Mets, 4-2, in front of 37,490 at PNC Park.
If you're so intent on reversing trends, this was not a terrible way to start: In both 2011 and '12, the Pirates had won the final game prior to the midsummer break, so their second-half launching pad is already different.
As is their foothold: The Bucs again pulled into the All-Star pit stop in the heat of the National League Central race, but with a far superior record of 56-37.
"We're pleased, but there is nobody in that clubhouse who is satisfied," Hurdle said. "We're in a good spot. We played hard to the finish of the first half. We'll reboot on Thursday."
Cole's personal reboot won't come until July 23, as he will bring up the rear of the Pirates' shuffled five-man rotation. On that occasion, when he will confront the Nationals on their home turf, Cole may be more mindful than usual of his edge as he first takes the mound.
"I should probably think about that, and try to keep the same mentality even when things aren't going my way," said Cole, after having staggered through another three-run first inning before shutting it down for the rest of his outing.
This was the second time it had happened to him. In the first innings of his seven starts, Cole thus has allowed six runs. In the other 34 2/3 innings, he has allowed a total of eight.
"Today, they were more ready than I was," Cole said of the Mets, who nearly batted around against him in that first. "That happens, and you've got to learn from it and be more prepared next time."
To Hurdle, Cole's biggest issue was not complicated.
"We're not going to over-think or over-cook it," Hurdle said. "His command wasn't what is needed for him to come in and set the tone of the game. He needs to understand the importance of commanding the fastball, and to going to secondary pitches earlier."
The biggest telltale signs of Cole's game-opening problems were the three batters he lowered into 1-2 holes ... and all three ended up driving singles.
New York's opening assault featured Marlon Byrd's RBI double and a two-run single by John Buck. Among the 31 pitches he had to make in that inning, Cole allowed two other hits and issued a walk.
"We certainly read about him, the reports glowing, so to say," Mets manager Terry Collins said. "One of the things we tried to do is pride ourselves on being patient. But boy, he's got some kind of arm. He's going to be pretty good. That's what they need, another talented young guy."
After that first, Cole permitted only two other hits, and another walk, during the remainder of his five-inning stint, which included five strikeouts.
"Survival mode," Cole called it. "Grinding it out. It's not what you want to do. Ideally, you'd like to go out and dominate. But sometimes you've got to scratch and claw your way through."
There was a significant difference the last time Cole gave up three in the first, on June 28 against Milwaukee. Then, the Bucs backed him with a powerful 12-hit attack for an eventual 10-3 win.
This time, Gee would have none of it. For 6 2/3 innings, the right-hander messed with Pirates hitters' timing, eliciting a series of weakly struck balls.
The Bucs stirred slightly in the third. Cole dribbled a ball to the right of the mound for an infield single and kept going to second as Gee heaved the ball wide of first for an error, and Starling Marte followed with an RBI double.
Pittsburgh frowned on a far bigger opening in the eighth. Jordy Mercer led off with a single, Andrew McCutchen followed with a double and New York setup reliever LaTroy Hawkins was in a major fix. It became only a minor nuisance, as only one run scored on Jose Tabata's infield roller between Pedro Alvarez's strikeout and Garrett Jones' flyout.
"We had the opportunity, just didn't get it done," Hurdle had to admit. "There was more for us to do offensively and, if you're going to honestly self-evaluate, we weren't able to do it."
As it turned out, that eighth-inning run merely neutralized one the Mets had picked up in the seventh, on Daniel Murphy's run-scoring triple off Jeanmar Gomez.
The significance of that run? The first, and only, scored against the Pirates' bullpen in the six games of this homestand, bridging 17 1/3 innings.
Tom Singer is a reporter for MLB.com and writes an MLBlog Change for a Nickel. He can also be found on Twitter @Tom_Singer. This story was not subject to the approval of Major League Baseball or its clubs.