Gee makes three-run first stand up for Mets
Gee makes three-run first stand up for Mets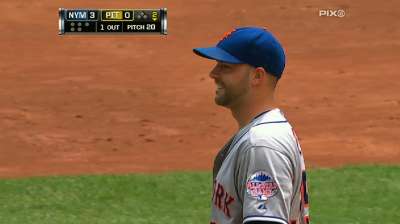 PITTSBURGH -- Get to a young pitcher early, and oftentimes, he'll fall off his horse. Sunday, the Mets successfully completed the first part of that baseball adage, and even though Gerrit Cole didn't do the second, New York had already done enough.
A three-run first inning and a stellar outing from Dillon Gee lifted the Mets to a 4-2 win over the Pirates at PNC Park, salvaging the final game of the three-game set before the All-Star break. The club finished 6-3 on its nine-game road trip and went 16-11 over the last 27 games.
"Everybody looks forward to the All-Star break, and I'm glad we were able to finish the way we did," Mets third baseman David Wright said. "Obviously, we would have liked to win two of three here, but you can't complain too much about a 6-3 road trip."
New York extended its lead to 4-1 in the seventh when Daniel Murphy tripled in Eric Young, but the real damage was done before Pittsburgh even took a turn at the plate.
The Mets started with singles by Young and Wright in the first. Marlon Byrd, in the cleanup spot with Ike Davis sitting, launched a ground-rule double to left to score one. Josh Satin then walked, setting up John Buck's two-run single to right. Cole had two strikes on Wright, Byrd and Buck.
"Today, they were more ready than I was," Cole said. "That happens, and you've got to learn from it and be more prepared the next time."
Gee then went to work, which is nothing new for him when facing the Pirates. He stifled Pittsburgh's offense all afternoon, finishing with no earned runs, five hits, one walk and two strikeouts charged over 6 2/3 innings. He entered Sunday with a 1.73 ERA in four career starts against the Bucs.
Gee battled recurring blisters on his feet, a dry mound, heat and humidity.
"Stuff-wise, it probably wasn't the best day, but I was just trying to throw strikes," Gee said. "The guys get out there and got us an early lead and set the tone against a good pitcher. So I want to try to throw a lot of strikes after that and keep them off balance."
Cole, Pittsburgh's top prospect, went five innings, surrendering three runs, six hits and two walks with five strikeouts.
The Pirates threatened in the seventh when Clint Barmes doubled with two outs, and then Gee walked Travis Snider. Scott Atchison, who was activated from the disabled list after Saturday night's game, froze Starling Marte with a 3-2 breaking ball to end the inning.
Things got dicey for LaTroy Hawkins, dealing with a right triceps injury earlier this week, in the eighth. Jordy Mercer singled to right, and then Andrew McCutchen went the opposite way as well, doubling off the base of the right-field wall. Hawkins then struck out Pedro Alvarez, and Jose Tabata's groundout scored Mercer. But Garrett Jones popped out on the first pitch he saw to end the threat.
Bobby Parnell allowed two hits in the ninth, but picked up his 16th save.
"We had the opportunity, just didn't get it done," Pirates manager Clint Hurdle said. "There was more for us to do offensively and, if you're going to honestly self-evaluate, and we weren't able to do it."
Wright, whose 0-for-5 Saturday effort snapped a 12-game hitting streak, was booed by fans at PNC Park for the third straight game and went 1-for-4 on Sunday. He originally left Pirates third baseman Pedro Alvarez off his National League team for the 2013 Chevrolet Home Run Derby, but added him when Colorado's Carlos Gonzalez withdrew.
"I love Pittsburgh ... but when you start booing David Wright, you better reevaluate what's going on," Collins said. "Because there's nobody that plays the game any harder, or who epitomizes what you want a Major League player to be than David Wright. But I understand their frustration."
Was it surprising the booing continued into day three with Alvarez's inclusion announced Thursday?
"People weren't here the first two days had to boo him, too," Collins deadpanned. "Today was their day I guess."
Cole got the Pirates' first hit by dribbling one down the third-base line in the third inning. He advanced to second when Gee's throw went well wide of Satin, although he could've been on third if he had hustled down the first-base line. But Marte doubled to left to put the Pirates on the board.
Steven Petrella is an associate reporter for MLB.com. This story was not subject to the approval of Major League Baseball or its clubs.