CC takes rare loss vs. Twins to close first half
CC takes rare loss vs. Twins to close first half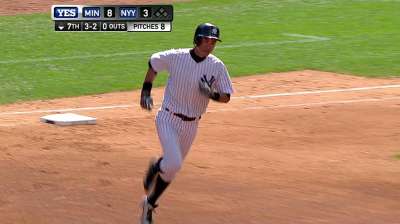 NEW YORK -- There would be plenty of contenders if you felt like weeding through the Yankees' afternoon for their ugliest defensive display, but CC Sabathia and Eduardo Nunez held no debate about where the most damaging moment took place.
Nunez rushed a throw on a grounder that kept the third inning alive, and Aaron Hicks hit the next pitch into the seats for a three-run homer, delivering a crushing blow as the Yankees limped into the All-Star break with a 10-4 loss to the Twins at Yankee Stadium.
"I have to make better pitches to try to help these guys out," said Sabathia, who allowed a season-high eight runs (five unearned) in just four innings. "They've bailed me out of situations all the time. It's frustrating because you didn't help these guys out."
Nunez described the game as "horrible; very, very bad," and there was little debate in the home clubhouse. Lyle Overbay also committed an error that permitted two runs to score, giving the Yankees plenty to think about on their four-day break before play resumes on Friday in Boston.
"It's unusual," Yankees manager Joe Girardi said. "Our defense has been really good this year. For whatever reason, it wasn't today. We made some mistakes and gave them extra outs, and it cost us."
The loss was Sabathia's first to the Twins since 2007, and marked Minnesota's first series win at the new Yankee Stadium. They hadn't celebrated one in the Bronx since May 8-10, 2001.
"It's nice to win," Twins manager Ron Gardenhire said. "To win a series here is not ever easy. We haven't done it a long time. Guys were excited; the ball fell our way today. Today we got a lot of breaks."
Sabathia said that the Twins jumped on his fastball early, and that his secondary pitches "were terrible." Pitching coach Larry Rothschild noted a flaw in Sabathia's arm slot, which gives the lefty -- now 9-8 with a bloated 4.07 ERA - something to iron out before his scheduled start on Sunday at Fenway Park.
"I'm not pitching very well," said Sabathia, who allowed eight hits while walking two and striking out five. "I'll look forward to the break, but [also] pitching better in the second half."
The Yankees weren't overwhelmed by rookie Kyle Gibson, but the right-hander still held New York to three runs (two earned) and five hits over five innings, rebounding after he'd served up eight runs to the Yankees in a July 4 loss at Target Field.
"I thought we had good at-bats. I thought we hit the ball pretty hard," Girardi said.
Minnesota did it better, or at least in timelier fashion. The Twins scored two runs on four singles off Sabathia in the second inning, as Jamey Carroll and Pedro Florimon connected for run-scoring hits, then added three more unearned runs in the third.
After Hicks took advantage of Nunez's error on Trevor Plouffe's grounder, Minnesota added three more in the fourth. Justin Morneau flared a soft bases-loaded pop over the mound for an RBI single, and Overbay tried to backhand a Ryan Doumit grounder that tipped his glove, allowing two more runs to score.
"This wasn't [good]. It's just one game, though, and we've got four days to kind of get away from it and kind of revive everything," Overbay said.
The Twins added a run in the eighth off Adam Warren after back-to-back doubles by Florimon and Brian Dozier, and a run in the ninth off Joba Chamberlain on a bases-loaded passed ball.
"It was just one of those games where everything we could do wrong, we did wrong, defensively," Vernon Wells said. "That was probably one of the uglier games seen in this stadium, for sure."
Ichiro Suzuki was one of the few bright spots for the Yankees, slugging a seventh-inning homer off Caleb Thielbar and driving in a pair of runs.
"Losing is disappointing, no matter how you do it," Wells said. "The way this game played out, with just how ugly it was, it'll be good to quickly forget about."
The Yankees checked into the All-Star break seven games over .500 at 51-44 -- "not where we want to be," Girardi said, but also not terrible position considering the injuries that have ravaged the team in the first half.
They would all agree, however, that games like Sunday's are best left behind. If the Yankees hope to mount a challenge for the division-leading Red Sox, they'd be best served to play crisper ball beginning on Friday.
"I think everybody in here knows what we're up against and what we need to do to try to make the playoffs and win this division," Sabathia said. "It's just up to us to come out and play consistent and play the way we can play."
Bryan Hoch is a reporter for MLB.com. Follow him on Twitter @bryanhoch and read his MLBlog, Bombers Beat. This story was not subject to the approval of Major League Baseball or its clubs.