Sox close out rough first half with loss to Phillies
Sox close out rough first half with loss to Phillies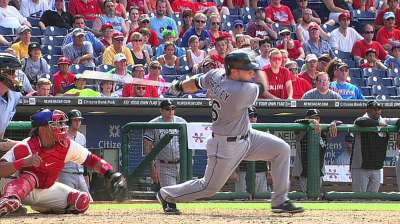 PHILADELPHIA -- By virtue of John Mayberry Jr.'s two-out single in the bottom of the 10th inning, the Phillies were able to escape with a 4-3 victory over the White Sox Sunday afternoon at Citizens Bank Park.
Philadelphia won two of three extra-inning contests this weekend, pulling back to .500 at 48-48 in the process. It's a sign of hope, even for a less-than-perfect club. It's basically a far-off dream for the White Sox, who go into the All-Star break with a 37-55 mark and sitting 14 games out of first in the American League Central.
"The record speaks for itself. Nobody is happy," said White Sox manager Robin Ventura after his team fell to 18-34 on the road. "Yeah, these will be a good four days for these guys. Just go home and do whatever they are going to do and then come back ready to go. You can go home and clear your mind."
When asked to sum up this disappointing first half before the game, Ventura chose the two words "not good" that said a great deal without saying much.
Actually, "not good" stands as the perfect assessment for the 2013 version of the White Sox.
Even sitting in last place in the AL Central, this team was not atrocious. The White Sox had front-line pitching to contend more often than not, as evidenced by the six strong innings provided by Jose Quintana on Sunday, and played 72 games decided by three runs or fewer. Thirty-one of the last 39 have been decided by three runs or fewer, and the White Sox have a 9-22 mark during that stretch.
On Sunday, they trailed by one run in the ninth before tying the game off Phillies closer Jonathan Papelbon on Josh Phegley's two-out single, scoring pinch-runner Blake Tekotte. But Mayberry delivered off reliever Ramon Troncoso to hang the loss on David Purcey (0-1). That single came after Troncoso struck out Delmon Young with the bases loaded and one out, which typified the White Sox "just good enough to be bad" first half.
Their offense as a whole was off its game far more frequently than it was on in the first half, with the team scoring three runs or fewer in 46 of 92 games. The White Sox posted a dismal 11-35 ledger in those particular 46. And the fundamentals which they excelled in 2012 disappeared in 2013.
As an example, Alejandro De Aza doubled to lead off the sixth against Cole Hamels. The inning ended two batters later when he was doubled off second on a Alex Rios liner to second baseman Chase Utley that was caught just a few feet behind the base.
Hamels dominated for six innings Sunday, although a Jeff Keppinger double play allowed Hamels to give up three baserunners in the fifth and no runs. But Keppinger exacted his revenge in the seventh, following singles by Adam Dunn and Dayan Viciedo with a run-scoring single of his own to right-center. The White Sox were set up at first and third with nobody out, but didn't score another run as Phegley struck out and Brent Morel hit into an around-the-horn double play.
Quintana yielded three runs on five hits over six innings, fanning five and walking two, but finished with his Major League-high 13th no-decision.
"Q, it's like one of those, once he gets past that first inning, for one reason or another, he gets in a little trouble in the first and then after that he gets stronger," Ventura said. "Hamels was tough today. You can look at his record or whatever, but he's tough. He had a great changeup. He kept us off-balance. We keep fighting and tie it up and just couldn't get it at the end."
"Those three games were very different," said Philadelphia manager Charlie Manuel of the weekend series. "If you look at how they were played, what happened, how long they took, all the moves that were made."
De Aza, who finished 12-for-25 with two homers and seven runs scored over a 3-3 trip to Detroit and Philadelphia, launched his 12th homer and picked up his 44th RBI. It still wasn't enough to stop the White Sox from adding to a losing record at the break for a second time in three seasons.
Phegley left the game in the bottom of the ninth after taking a Kevin Frandsen foul tip off of his right index finger. X-rays were negative, according to Phegley, and he expects to be back Friday when the White Sox resume second-half action.
Their highly disappointing record doesn't translate into disappointment from Ventura in his team's effort. That effort will have to drive them through a second half of playing for pride more than anything else.
"Sometimes it's just luck doesn't fall your way," said White Sox All-Star Chris Sale of his team's struggles. "At the same time, we'll take these next few days off, regroup and make a push in the second half."
Scott Merkin is a reporter for MLB.com. Read his blog, Merk's Works, and follow him on Twitter @scottmerkin. This story was not subject to the approval of Major League Baseball or its clubs.