Gutierrez DFA'd with Davis' return to Royals
Gutierrez DFA'd with Davis' return to Royals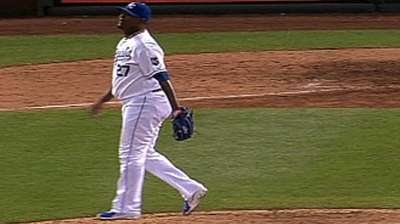 CLEVELAND -- Reliever J.C. Gutierrez was the pitcher dropped as the Royals juggled their pitching staff on Sunday.
Gutierrez was designated for assignment as starter Wade Davis was activated after being on paternity leave for three days.
Left-hander Everett Teaford, called up on Saturday to replace optioned rookie Donnie Joseph, was kept on the roster as was right-hander Louis Coleman, who arrived from Omaha on Monday. Both were possibilities to be returned to the Triple-A club.
Instead, Gutierrez was designated which means he'll be placed on waivers.
"Guty's going to get picked up," manager Ned Yost said. "I don't see him getting through waivers with that arm."
Gutierrez appeared in 25 games for the Royals with a 3.38 ERA in 29 1/3 innings. Opponents hit .275 against him. He found himself often used in "mop-up" roles when a game was more or less decided.
"I've got a lot of respect for those guys because he's not a mop-up pitcher," Yost said. "He'd take the ball when we needed him and he'd buy big innings for us so we didn't have to use the entire 'pen. He's a real professional, a great kid."
Gutierrez is not exactly a kid in baseball terms. He turned 30 on Sunday.
"It makes it all the [harder]," Yost said. "That's the 'fun' part of the job."
But Yost liked what he's seen from Coleman, who has pitched seven scoreless innings in two big league stints this year. He has eight strikeouts.
With Bruce Chen moving to the rotation, Teaford gives the Royals another left-hander in the bullpen to go with Tim Collins.
"We like what Coleman has done since he's been up here. We wanted to keep an extra left-hander [Teaford] for this game [Sunday] because [Cleveland's] a predominately left-handed-hitting team over there," Yost said. "Kelvin Herrera is getting close to coming off [his Minor League assignment] and we had to make a move, so we made it with J.C."
Dick Kaegel is a reporter for MLB.com. This story was not subject to the approval of Major League Baseball or its clubs.