Shields, Royals break after tough loss to Tribe
Shields, Royals break after tough loss to Tribe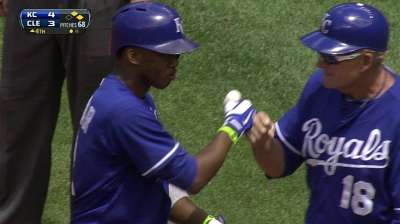 CLEVELAND -- The All-Star break arrived with a loud thud for the Royals.
They lost their fifth straight game going into the four off-days, 6-4, to the second-place Cleveland Indians on Sunday in front of 15,432 fans at Progressive Field. The three-game sweep by the Tribe left Kansas City six games under .500 at 43-49.
The third-place Royals also trail front-running Detroit in the American League Central by eight games, the biggest gap so far this season. They still have 14 games left with the Tigers, including three next weekend at Kauffman Stadium.
The Royals' trip ended at 2-5 after it opened promisingly with two victories at Yankee Stadium. In what's viewed as a crucial 20-game span currently going against top teams, their record is 5-8.
"We've had a rough five games, but everybody can go take a break, regroup and hopefully come back and play more consistent baseball," Royals manager Ned Yost said.
On the other hand, the Indians go into the break with a four-game winning streak and are hanging just 1 1/2 games behind the Tigers.
"We talked about it the other day -- you don't cruise into the break," Tribe manager Terry Francona said. "You go 100 miles an hour and then now you take your break."
Royals starter James Shields labored from the first on and he got through five innings. He made 113 pitches and gave up seven hits, three walks and three runs. That was enough and left-hander Tim Collins took over in the sixth inning.
"Shields got his pitch count up real early and was grinding," Yost said. "He got us through five with the lead and that's what he does. It was a great job, just battling through it."
While Shields was grinding, he didn't feel as if he was struggling on the mound.
"I threw some really good pitches," Shields said. "I think I threw three changeups that probably would've hit the dirt, but they got base hits on them. I was using my fastball a lot today and they probably had about 20 foul-offs.
"I was getting ahead of hitters for the most part all day. I know I had three walks, but they were working the count and fouling pitches off. It was a grind today. That's a good team. I think I faced them three of the last six games, so there's no surprises."
Shields left a 4-3 lead to Collins, but the lefty ran into trouble for the second time in the series. In Friday night's 3-0 loss, Collins gave up two singles that started the Indians' three-run seventh inning.
"It's two days right at the All-Star break and everybody's a little tired," Collins said. "That's still no excuse, but I still feel like I'm going out there and making my pitches, but they're hitting 'em. I don't know if they're seeing me good or what I'm doing out there."
Collins already has absorbed five losses, more than the four he had in each of his first two full seasons with KC. But he remained confident.
"You go through stretches like that," Collins said. "Even if you make good pitches, they can hit it."
The Royals got their four runs off Indians right-hander Ubaldo Jimenez.
Lorenzo Cain and David Lough each singled and Johnny Giavotella walked to load the bases with one out in the second. Alcides Escobar's sacrifice fly and Alex Gordon's single each pushed home a run.
The Royals added two more runs in the fourth. Cain walked, stole second and took third on an error. Lough bunted safely. Cain didn't move, but then scored on Giavotella's groundout. Escobar knocked in Lough with a single.
The lead vanished in a flurry of three runs in the Indians' sixth against Collins. A walk, Drew Stubbs' single and a sacrifice bunt set up Asdrubal Cabrera's two-run double.
Collins' recent woes have perplexed Yost.
"They're just seeing the ball good off him. He's mixing in his walks which hurt, but they've been getting a lot of hits off him, too, lately," Yost said.
Collins gave way to fellow lefty Everett Teaford, just up from Triple-A Omaha, and he gave up an RBI single to Jason Kipnis that put the Indians ahead, 6-4.
"I was really proud of our guys today," Francona said. "Because, going up against Shields, Ubaldo falling behind, we battled back, fell behind again, and kept battling. And, because of it, we go into the break with a nice win."
No such luck for the Royals.
"You never want to lose five in a row," Shields said. "I remember one year, we [Tampa Bay] lost I think seven or eight in a row and it put us in a deep hole and we ended up winning 10 straight after the break, so I'm not really too worried about it."
Then, he stepped back to make a brief assessment of the Royals' first 92 games.
"I think we've done a great job of grinding this first half," Shields said. "It definitely could be a lot worse and it definitely could be a lot better so, right now, in the next half we need to kick it in gear and string together some wins."
They've got 70 games left in which to do just that.
Dick Kaegel is a reporter for MLB.com. This story was not subject to the approval of Major League Baseball or its clubs.