Segura fine playing every day in first full season
Segura fine playing every day in first full season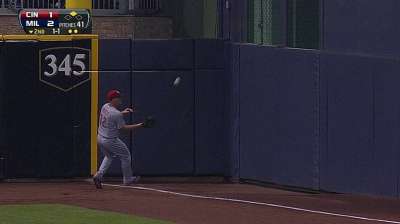 PHOENIX -- Jean Segura played in his 91st game of the season Saturday and 89th at shortstop, missing only two games for the Brewers this year. But the 23-year-old All-Star, who had played only 45 Major League games before this season, said he isn't feeling fatigued.
"I'm young, and being hit by those pitches hasn't caused a serious injury to not let me play," Segura said in Spanish, referring to him being plunked six times this season. "I always like to play, and if I don't, it's because I'm injured."
Segura, who has been a bright spot for the Brewers this season after winning the starting job in Spring Training, said he comes to the ballpark every day expecting to play and doesn't concern himself with much else. That includes the chance of a long-term contract that could earn him franchise-player-type money, which he feels will be worked out in due time.
Segura's last day off was July 2, and he's been dealing with a sore right hand but has been irreplaceable despite a 6-for-23 homestand before the trip to Arizona.
The All-Star break won't offer much rest, either, as Segura will travel to New York to take part in the festivities for the Midsummer Classic.
"I won't be able to take much of a break, but it's a fun game and it's going to be a good experience for me," he said.
Jose M. Romero is a contributor for MLB.com. This story was not subject to the approval of Major League Baseball or its clubs.