Clutch Cutch, bullpen send Pirates past Mets
Clutch Cutch, bullpen send Pirates past Mets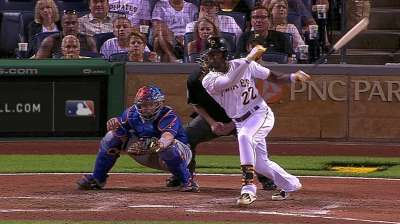 PITTSBURGH -- In baseball's history, there have been some notable "vulture" relief pitchers, the vernacular for exploiting starters' extended efforts by swooping in for the victory late in games. Pittsburgh's own Elroy Face became legend by poaching an 18-1 record in 1959. The Dodgers' Phil Regan even formally went by the nickname "Vulture."
The 2013 Pirates have a vulture bullpen.
The flock was circling again on Saturday, combining for 3 1/3 shutout innings in relief of A.J. Burnett to enable the Pirates' 4-2 comeback victory over the Mets in front of 39,173, the season's largest PNC Park crowd.
To Pirates manager Clint Hurdle, it was not a coincidence that three of their runs followed the first swing of the bullpen gate.
"I do think, at times, our hitters ... when our bullpen gets in, there is a settling effect," Hurdle said. "Even I don't want to admit it, but I think there's something there -- they settle down. I do think they feed off how effective the relievers are."
The individual victory went to Justin Wilson, who got four outs for his sixth win and No. 21 for the bullpen. He was followed by a typical perfect inning by Mark Melancon, then another clean frame for Jason Grilli's 29th save.
Game by game, the Pirates are advancing this from a very good season to one of their best ever.
Team victory No. 56 -- most for the Bucs prior to the All-Star break since their 1971 World Series champs posted 57 -- lifted the Pirates back into a flat-footed tie with St. Louis atop the National League Central standings.
Were they to nail down No. 57 in Sunday's first-half finale, it would match the win total for 2010, the season prior to Hurdle's arrival. It would also be an appropriate number in the home of the Heinz Company.
"That's good," Andrew McCutchen said of the credits the Pirates will be taking into the break, "but we still got a whole season to play. It's good what we're doing, but we got to get ready for tomorrow, then for the next half."
This game was essentially decided when McCutchen singled off the glove of third baseman David Wright with two outs in the seventh.
Not so much because that hit off reliever Greg Burke scored Travis Snider from second base to snap a 2-2 tie, but because it was the All-Star outfielder's second hit of the game.
And the Bucs now are 18-1 at home when McCutchen raps two or more hits.
With the bullpen already at work, McCutchen's go-ahead single and a subsequent bases-loaded walk drawn by Russell Martin for the insurance run had the Bucs thinking, "It's over."
"They've been able to shut it down. That's what they've done the whole season," McCutchen said. "It definitely makes it easier to go on the field, knowing that come innings seven through nine, we have a good chance of keeping any lead."
That also makes it easier for someone like Burnett -- who feels a responsibility to pitch 10 innings every nine-inning game -- to leave a game short of his goal line.
"You want to go deeper than that," said Burnett, who went 5 2/3 innings on Saturday, "but with that bullpen coming in to do what they do, the way they are attacking ... you feel pretty good with those three guys coming in behind you."
McCutchen had tied it at 2 with a solo homer in the sixth. McCutchen connected for his 10th of the season, and first in 45 at-bats since June 28, as the first hitter to face reliever David Aardsma, following Carlos Torres' five sharp innings in his first start in nearly three years.
The pitch prior to the one McCutchen lost in the right-center-field seats, Aardsma had made the mistake of firing one between his chin and shoulder.
"When he got his tower buzzed," Hurdle recalled, "he kinda looked at us [in the dugout], almost as if to say, 'I got this.' And darn if he didn't hit the next ball out. That's special stuff."
As he rounded first, McCutchen also made a celebratory gesture with his right arm that was difficult to see, and which he had difficulty recalling.
"That just got my motor going," McCutchen said of the brush-back pitch. "Got me ready to hit."
"Tool for tool, he's maybe the best player in the league," Mets manager Terry Collins said of McCutchen. "He can do a lot of things. He can steal bases, he can fly, he can throw. He can play defense, he's got power, plays the game the right way. Plays hard. I always tell people he's one of the guys I'd pay to see. And you've got to get him in situations where he can't hurt you. Again tonight, we got to get an inning, we got a ball up to him and he did what he does. He does damage."
Burnett kept a cap on the Mets until Kirk Nieuwenhuis' double in the fourth scored Marlon Byrd, who had walked. In the fifth, Byrd was on the other end of the scoring, singling to drive in Daniel Murphy and give New York a 2-0 lead.
The Pirates misfired on a major threat against Torres in the fifth. They scored a quick run on Garrett Jones' leadoff double and Jordy Mercer's run-scoring single, then seemed poised to really step on it. Clint Barmes also singled, and Burnett's expert sacrifice bunt moved the runners to second and third with one out. Torres tightened the screws even further by clipping Starling Marte's left elbow with a 1-2 pitch to load the bases.
Then, just like that, it was over: Jose Tabata pulled the second pitch to short for the inning-ending double play, Torres' 2-1 lead still intact.
"We were not able to draw a bead on Torres, he kept us off balance with his curve and slider," Hurdle noted. "We had an opportunity to bust him and didn't, he got away."
The five innings he had given the Mets were welcomed, coming from a 30-year-old whose recent work had all come in relief. In fact, it was Torres' longest outing since Aug. 3, 2010, when he had gone six innings in his previous big league start, for the Chicago White Sox in Detroit.
Torres allowed five hits and a run in five innings, avoiding a walk while fanning five.
Burnett barely outlasted his adversary, allowing seven hits and two runs in 5 2/3 innings, during which four walks and eight strikeouts had his pitch count to 96.
Then he had to seek shelter, because the vultures were circling overhead.
Tom Singer is a reporter for MLB.com and writes an MLBlog Change for a Nickel. He can also be found on Twitter @Tom_Singer. This story was not subject to the approval of Major League Baseball or its clubs.