Bullpen falters for Mets after Torres' solid start
Bullpen falters for Mets after Torres' solid start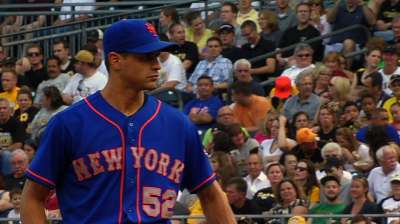 PITTSBURGH -- Friday night, it was the Mets who chipped away at a two-run deficit, but ultimately fell to the Pirates in extra innings. Saturday night's buildup was the opposite, but the end result stayed the same in another bullpen battle.
Andrew McCutchen's game-tying solo homer in the sixth off David Aardsma and go-ahead RBI single in the seventh off Greg Burke sent the Mets to a 4-2 loss to the Pirates on Saturday night at PNC Park.
The Mets' bullpen, which manager Terry Collins said is absolutely gassed, gave up three runs, five hits and two walks over three innings. The Pirates: 3 1/3 innings, one hit, no runs or walks.
"They're hanging, there's no doubt about it," Collins said of his 'pen. "Today we had a situation where we needed guys to get one out ... they're hanging for sure."
Burke could have worked out of the seventh unscathed with a little help from Ike Davis. The first baseman couldn't come up with a sharply hit Travis Snider ground ball. He then dropped a throw on a potential double play after David Wright snared Starling Marte's line drive and tried to double Snider off first. The ball skipped off the dirt right before his glove.
So with two outs in the seventh, Jose Tabata singled to right. Then McCutchen scorched a line drive just past a diving Wright to give the Pirates the lead. Josh Edgin then came in and walked Russell Martin with the bases full to score another. Gonzalez Germen, after giving up a walk-off single in his big league debut Friday, stopped the bleeding, forcing a Gaby Sanchez popout.
"It had some pretty gnarly spin on it, but I hope I make that [play the] majority of the time," Davis said of Snider's ground ball. "Nine out of 10 balls, I catch that."
"I do think, at times, our hitters ... when our bullpen gets in, there is a settling effect," Pirates manager Clint Hurdle said. "Even I don't want to admit it, but I think there's something there -- they settle down."
Carlos Torres made his first Major League start since 2010 and allowed just one run and five hits with five strikeouts over five innings and left in line for the win for the Mets. He got the ball in favor of Matt Harvey, who has a blister on his right index finger.
Torres spent the last three weeks in the Mets' bullpen, allowing just one earned run in 17 2/3 innings. The 30-year-old spent the first two months of the season with Triple-A Las Vegas, starting 12 games there, and will replace Shaun Marcum in the rotation for now.
Torres left in line for the win thanks in part to Tabata. Garrett Jones led off the fifth with a double, then Jordy Mercer pushed a line drive to right to cut the Mets' lead in half. Three batters later, with the bases full and one out, Tabata grounded into a tailor-made 6-4-3 double play to keep the Mets in front.
"He pitched an outstanding game and he's going to be a good addition," Collins said. "I know we need to get him lengthened out a little bit more, but he threw the ball great."
"We were not able to draw a bead on Torres. He kept us off balance with his curve and slider," Hurdle said. "We had an opportunity to bust him and didn't, he got away."
Torres retired the first seven Pirates he faced and allowed just two hits while striking out five in the opening four frames. It then got dicey in the fifth, and Jordany Valdespin, who was optioned to Las Vegas after the game, pinch-hit for the righty in the sixth. Torres threw 80 pitches.
"I was just trying to get outs inning by inning. That fifth was a brutal one," Torres said. "So it was a good time. It is what it is."
McCutchen greeted Aardsma with a solo homer to right-center in the sixth, taking the second pitch he saw deep after almost taking a first-pitch fastball off the chin.
"I always tell people he's one of the guys I'd pay to see," Collins said of McCutchen. "And you've got to get him in situations where he can't hurt you. Again tonight, we got to get an inning, we got a ball up to him and he did what he does. He does damage."
Pirates starter A.J. Burnett allowed two runs, seven hits and four walks with eight strikeouts over 5 2/3 innings. Mark Melancon and Jason Grilli worked scoreless eighth and ninth innings for the Pirates.
Kirk Nieuwenhuis got the Mets on the board in the fourth with a line-drive double to right-center, scoring Marlon Byrd.
In the fifth, Byrd legged out an infield single to plate Daniel Murphy, who stolen third.
Steven Petrella is an associate reporter for MLB.com. This story was not subject to the approval of Major League Baseball or its clubs.