Felix shuts down Angels for 10th win
Felix shuts down Angels for 10th win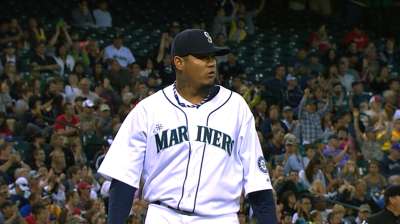 SEATTLE -- Saturday night's showdown between Felix Hernandez and Jered Weaver had all the makings of a classic pitchers' duel, but Justin Smoak would have none of it. While Hernandez lived up to the billing with eight scoreless innings, Smoak drove Weaver from the game with four RBIs on the way to a 6-0 Seattle victory at Safeco Field.
Seattle improved to 2-0 in the three-game series with Los Angeles thanks to another gem from Hernandez. In his last outing against the Angels, Hernandez had one of the worst game's of his career, blowing a 7-0 lead on the way to a 10-9 loss.
"I just try to make good pitches. You know what happened last game against these guys and my mindset was just trying to attack the hitters and throw strikes," Hernandez said.
It was just one in a series of stellar performances for the 2010 American League Cy Young Award winner, who is 4-0 with a 2.93 ERA over his last eight starts and 10-4 with a 2.53 ERA on the season. It is the first time in his career that Hernandez has compiled double-digit wins before the All-Star break.
In each of his last four times out, the righty has gone at least seven innings, never surrendering more than two runs.
After an easy first three innings Weaver cracked in the fourth, giving up consecutive singles to Kendrys Morales, Kyle Seager and Smoak, who drove in the game's first run on the 10th pitch of his at-bat.
Meanwhile, Hernandez continued to roll, needing only 26 pitches to get through the middle three innings. Seattle's ace allowed just seven hits with no walks while striking out four.
"I tried to battle, tried not make a mistake there trying to keep your team in the game. With the way Felix was throwing, one run would have made a difference," Weaver said. "Smoak had a big home run there. Obviously, it was the difference in the game. Felix was dominant tonight."
Things came to a head in the sixth, when Weaver again gave up back-to-back singles to Morales and Seager, this time with two outs. Smoak followed with a 411-foot shot to dead center, putting the Mariners up, 4-0. Michael Saunders followed with a single, prompting Angels manager Mike Scioscia to end Weaver's night after 5 2/3 innings.
"When guys are having good at-bats, making the pitcher throw a lot of pitches, one through nine you're going to have good pitches to hit," Smoak said. "[The pitcher] is going to make mistakes, he's going to get tired out there and I think that's what you're seeing from everybody."
Where there's been Smoak, there's been a hitter on fire for the Mariners ever since he returned from the disabled list on June 18. The slugger is batting .366 in July.
"I'm proud of him," manager Eric Wedge said. "The kid's worked so hard as all these guys do. He's letting his natural ability come through, I think it's not just Smoak there are others that are doing it too. Guys that are right in the middle of figuring it out."
Smoak's resurgence has come in the middle of a hitting renaissance for the Mariners. The club has now scored 44 runs over the first six games of the homestand.
The Mariners added to the cushion that Smoak built in the seventh, with an assist from some sloppy pitching by the Angels' bullpen. Reliever Dane De La Rosa walked catcher Mike Zunino, who advanced on a single by Dustin Ackley. Both runners moved up on a wild pitch, prompting another pitching change.
Scott Downs was unable to fix the situation for the Angels, throwing a wild pitch to score Zunino, then giving up a walk and RBI singles to Nick Franklin and Raul Ibanez to put the Mariners up, 6-0.
Yoervis Medina struck out two in a perfect ninth to seal the win.
Jacob Thorpe is an associate reporter for MLB.com. This story was not subject to the approval of Major League Baseball or its clubs.