Greinke dominates Rox with fourth career shutout
Greinke dominates Rox with fourth career shutout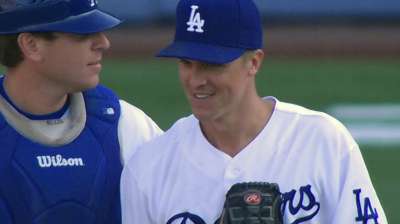 LOS ANGELES -- The Dodgers' resurgence over the past three weeks has been aided by strong starting pitching, particularly by Zack Greinke.
Greinke was in peak form again on Saturday, firing his fourth career shutout to lead the Dodgers past the Rockies, 1-0, in a pitchers' duel at Dodger Stadium.
"He was pretty special and pretty dominant," said catcher A.J. Ellis.
Greinke, who took a perfect game into the fifth inning and allowed just two hits, threw his first shutout since 2009, when he won the American League Cy Young Award with the Royals. Greinke struck out nine against one walk and recorded 14 outs on ground balls.
"I stayed good all the way through, I haven't done that in a while," said Greinke, who won his eighth game of the season and 99th of his career. "I felt good out there. It was a fun game."
The Dodgers are now 17-4 since June 22, the best record in the Major Leagues in that span. Greinke has won five of those games. Los Angeles is 14-3 over its past 17 games against the National League West.
Greinke was perfect through 4 1/3 innings, before Todd Helton singled to left. The Rockies hadn't gotten a ball out of the infield up to that point.
"You could see that he was just locked in early," said Dodgers manager Don Mattingly.
The right-hander was economical with his pitches, needing just 34 to get through four innings. Greinke was able to get ahead in most counts and made eight pitches in the first, six in the second, nine in the third and 11 in the fourth.
"It's a lot of fun to play behind, because you don't have a lot of time to think about anything else besides what he's trying to do to get outs," said Skip Schumaker, who scored the game's only run. "Greinke is one of the smartest pitchers I've been around. He's pretty tough when he's on his game."
The Dodgers, who were shut out on Friday, gave Greinke an early lead to work with. Schumaker led off with a double against Rockies starter Tyler Chatwood, moved to third on a groundout and scored when Hanley Ramirez hit a chopper to shortstop.
"I guess one was all we needed," Schumaker said.
Without Yasiel Puig (bruised left hip) and Carl Crawford (sore lower back), the Dodgers managed just four hits against Chatwood, who tossed the first complete game of his career in a losing effort. The right-hander struck out four and allowed just five baserunners to reach scoring position.
"Definitely a tough game, but you've got to tip your cap to that guy sometimes," said Chatwood, who grew up in nearby Fontana. "[Greinke] threw a [heck] of a game, sometimes that's just how it goes. I felt like I threw the ball pretty good today. Like I said, that's just how it goes sometimes."
Greinke had one of those hits, a single in the fifth. He then stole second, his first steal since 2011. The last Dodgers pitcher to steal a base was Ted Lilly on June 11, 2011. Greinke is hitting .367 this season, with hits in three straight starts.
Jonathan Herrera had the only other hit against Greinke, a single to lead off the sixth. But he was erased when Ellis caught him stealing. Ellis has thrown out 18 of 38 runners attempting to steal this season.
After battling elbow soreness during Spring Training and missing five weeks with a fractured left collarbone sustained during the brawl in San Diego in early April, Greinke has finally gotten into a routine and found his groove. He's won five straight starts.
"I've felt good for the past month and half," said Greinke, 5-0 with a 2.17 ERA in seven starts at home. "I mixed in some bad starts, and you don't want to do that. But it just took about a month after the injury. But I haven't been as consistent as I want."
Greinke has thrown 16 consecutive scoreless innings over his past two starts, the second longest scoreless streak by a Dodgers pitcher this season behind Clayton Kershaw's 19 scoreless innings to begin the year.
"I think the last few starts are more vintage Greinke," Schumaker said. "He's as tough a pitcher as you're going to find in the game."
Greinke said he made a mechanical adjustment after his July 3 start in Colorado, which has helped him increase velocity on his fastball. That was clear on Saturday, when he reached 96 mph with his heater and still sat at 94 mph in the ninth after crossing the 100-pitch plateau.
"He had a really good fastball today," Ellis said. "He had strong velocity, probably as strong as he's had all season."
Austin Laymance is an associate reporter for MLB.com. This story was not subject to the approval of Major League Baseball or its clubs.