Chatwood brilliant in tough-luck loss to Dodgers
Chatwood brilliant in tough-luck loss to Dodgers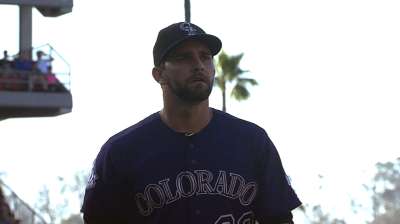 LOS ANGELES -- Rockies starter Tyler Chatwood turned in another strong road start against a National League West foe, but it wasn't enough as Zack Greinke led the Dodgers to a 1-0 win on Saturday night at Dodger Stadium.
"Definitely a tough game, but you've got to tip your cap to that guy sometimes," Chatwood said. "He threw a [heck] of a game. Sometimes that's just how it goes."
The loss, the Rockies sixth in nine games on the road trip, drops the club to five games below .500, equaling their largest dip below .500 at any point this season.
Although Chatwood turned in his first complete game and seventh quality start of the season, allowing one run on four hits in eight innings of work, Greinke shut out the Rockies one night after the Rockies shut out the Dodgers.
Greinke threw a two-hit shutout -- the fourth of his career and first since 2009 -- en route to his eighth win of the season.
"Greinke didn't miss today," Rockies manager Walt Weiss said. "It's always tough in afternoon games here, always tough to see. Afternoon games make it a little tougher, but Greinke was spot on. He was locked in."
The Dodgers right-hander kept the Colorado offense in check, as he retired the first 13 batters he faced, 10 of them via groundouts. He struck out nine and recorded 14 outs via groundouts.
"I stayed good all the way through, I haven't done that in a while," Greinke said. "I felt good out there. It was a fun game."
Todd Helton broke up Greinke's bid for a perfect game with a one-out single to left field in the fifth, but Helton's single was one of only two Rockies hits on the day.
The Dodgers gave Greinke a 1-0 lead in the first inning. Skip Schumaker led off with a double that a diving Dexter Fowler was unable to haul in and Mark Ellis was hit by a pitch, giving the Dodgers two on with nobody out.
Chatwood went on to retire the next three in order, but a groundout from Adrian Gonzalez moved Schumaker to third and Hanley Ramirez's groundout brought the run home.
Despite the tough-luck loss, Chatwood lowered his ERA against the NL West to 2.17 and kept his road ERA at 1.23.
"He doesn't have to prove anything to me," Weiss said. "I already know what he's all about. I think it was big in the first inning, minimizing damage that inning, just giving up one. He battled as tough as you can."
William Boor is an associate reporter for MLB.com. This story was not subject to the approval of Major League Baseball or its clubs.