Defense, Lynn's rocky outing trip up Cardinals
Defense, Lynn's rocky outing trip up Cardinals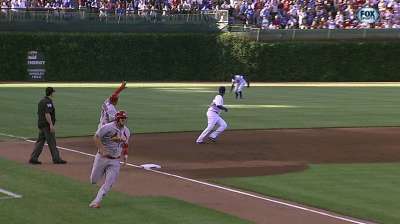 CHICAGO -- The bottom of the second inning on Saturday night at Wrigley Field was one of those strange innings that wound up costing the Cardinals three runs.
It just wasn't the lone reason they dropped a 6-4 game to the Cubs in front of 42,240 at "The Friendly Confines."
That's the part that bothered Lance Lynn the most. He started and took the loss, allowing six earned runs, but it might've been a different outcome had Alfonso Soriano and Luis Valbuena not homered off him in the third and fourth to give Chicago a 6-1 lead.
The Cardinals battled back into it, nearly blowing open rallies in the last three innings, but fell short of coming all the way back when Pete Kozma's chopper to shortstop Starlin Castro ended the game to give Kevin Gregg his 17th save.
"That's what this team's all about," Lynn said, after watching his teammates fight to nearly get him off the hook. "You're not going to quit until the game's over and if I'd have done a little bit better after giving up the three runs [in the second], we would've had a lot better chance to win. The two home runs ... those were probably the two worst pitches I threw all night and they cost me three runs. They just put [us] in too big of a hole tonight."
Soriano made it 4-1 by blasting a first-pitch fastball into the hedges of the batter's eye in center field. Valbuena made him pay in the fourth with his eighth home run of the season -- a two-run shot that landed in the basket atop the fence in right field.
That turned out to be all the runs Cubs starter Matt Garza and the Chicago bullpen needed, even though the Cardinals made sure it was a touch-and-go finish. The Pirates' win against the Mets lifted them into a first-place tie with the Cardinals in the National League Central, but manager Mike Matheny took something else out of this loss.
"Real impressive how these guys were right there [at the end] in a game that looked like it was going to get out of control," Matheny said. "I imagine people are tired of hearing me say, 'We keep fighting,' but I'm not tired of saying it, because it's true. And if it weren't true, then we'd have a different situation on our hands. We had an inning that was very uncharacteristic for us early on that set a bad tone, but the bullpen came in and did a nice job to give us an opportunity to get back in it ... and we were back in it."
That "uncharacteristic" inning was the second -- after the Cardinals took a 1-0 lead in the top half on three singles. Chicago scratched out three runs in its half of the frame, but not without the help of some miscues.
After Soriano doubled to lead off, he came around to score on a fielding error by Carlos Beltran after Dioner Navarro had singled to right field. That was just the start of it. Navarro then advanced to second on a passed ball by backup catcher Tony Cruz -- starting in place of star Yadier Molina -- and moved to third on a groundout. Dave Sappelt singled home Navarro to make it 2-1 and that's when things really took a turn for the strange.
Darwin Barney reached base on what was initially ruled catcher's interference by Cruz -- later changed to an infield hit -- and Garza loaded the bases with yet another popped-up sacrifice bunt. Instead of being caught, though, this one fell to the ground past the mound after sailing over Lynn, who fell down going for it.
A swinging bunt with two outs by Starlin Castro then scored the third run by rolling perfectly down the third-base line -- just out of Cruz's reach. Lynn got Anthony Rizzo to ground into the third out, but by that point he was already in the middle of a tough outing.
"Physical errors are going to happen," Matheny said. "We've done a good job of keeping those down and not letting them escalate into big innings, but you look at [Lynn's outing] again and you can't really put your finger on it. He had one walk, a couple balls hit hard ... but some things definitely could've gone a little different for him. He's had some weird things happen when he's been out there."
The Cubs are used to weird things happening this season and it nearly happened again in the late innings -- especially when Julio Borbon dropped Molina's fly ball to right field in the eighth after crashing into the padded wall. That loaded the bases with one out and the Cubs leading 6-2 with the top of the order coming up.
Instead of plating multiple runs, the Cardinals again settled for the run that scored on Matt Carpenter's sacrifice fly. They added another one while making Gregg sweat it out in the ninth, but just couldn't get the big hits to match those home runs by Soriano and Valbuena.
"I don't really like not finishing through the seventh," said Garza, who picked up the win by throwing 6 2/3 innings and allowing just two runs. "Against a team like these guys, you keep pounding away. They got 10 hits and only one extra-base hit. These guys are gritty and just keep grinding."
Brian Hedger is a contributor to MLB.com. This story was not subject to the approval of Major League Baseball or its clubs.