After grabbing early lead, Astros edged by Rays
After grabbing early lead, Astros edged by Rays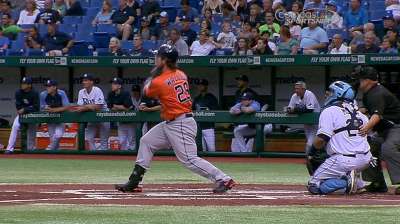 ST. PETERSBURG -- Astros starter Dallas Keuchel says he let Luke Scott off the hook, and the Rays designated hitter made him pay in Houston's 4-3 loss on Saturday at Tropicana Field.
Scott hit a two-run homer off Keuchel in the fifth and added an RBI single off Lucas Harrell in the sixth to give the Rays a lead they would not relinquish.
"The only pitch I'd like to have back is the one to Scott," Keuchel said. "I had him in a pitcher's count, and I let him off the hook a little bit, and he put a good swing on it."
Keuchel, who was pitching with a three-run lead, had Scott on a 1-2 count when he served up the fateful pitch. He would finish the inning, but not before giving up a double to Yunel Escobar, who proceeded to steal third base and score on a bunt single from Desmond Jennings.
"[Scott] is hitting the ball extremely hard, extremely hard," said Rays manager Joe Maddon. "He is showing good plate discipline right now, just really organizing the strike zone better. It's nice to see when some guys have been struggling a bit, other guys have been picking them up. That's what a good team does."
Astros manager Bo Porter allowed Keuchel to go out for the sixth inning, but he would only face one batter before being pulled for Harrell after just 80 pitches.
"I thought Dallas did a great job," Porter said. "After the stressful fifth and the guys they had coming up, I just felt like their at-bats were improving, and it was time to get Lucas in the game."
Keuchel said he could have continued.
"I would have liked to [continue]," Keuchel said. "That's just my mentality. I thought I deserved it. But it's [Porter's] decision, so it is what it is."
Scott got the game-winning hit off Harrell after Wil Myers put himself in scoring position with a single and a stolen base. After the game, Porter defended the pitching change.
"We put Harrell down in the bullpen with the notion that we're going to continue to make sure he's built up with the possibility of going back in the rotation," Porter said. "And I saw that as an opportunity for him to not only get in the game at a good point in their lineup, facing two of their better righties, but also an opportunity to give us extended innings through the rest of the game."
Harrell took the loss and fell to 5-10 after going 1 2/3 innings, giving up a run, two hits and two walks. It was his second relief appearance after being pulled from the rotation.
"When you're called on, you have to go up there and get people out," Harrell said. "It doesn't matter what the situation is, you have to go out there and make the right pitches."
The Astros jumped on Rays starter Roberto Hernandez in the first inning. Carlos Pena, leading off for the first time all season, singled to open the game, but was forced out at second on a Jose Altuve grounder. Altuve advanced to third on Jason Castro's double and scored on an RBI groundout by J.D. Martinez. Brett Wallace made game 3-0 with a 381-foot shot to right field, and for the second game in a row, the Astros had an early lead. However, Hernandez (5-10) would settle down and keep the Astros off the board for the remainder of his outing. He went six innings, giving up three earned runs on six hits and striking out six on 93 pitches to earn the win.
"Obviously, [Hernandez] got better, and I thought his last inning might have been his best," said Maddon. "His fastball actually got better. He was just assertive, and he did not want to come out of the game."
The Rays bullpen was solid, as Jake McGee, Joel Peralta and Fernando Rodney combined for three innings of no-hit ball and four strikeouts. Rodney picked up his 22nd save of the year.
Astros outfielder Justin Maxwell, who returned to the starting lineup for the first time since June 25, hit a two-out double in the first inning, but struck out in his other two plate appearances. The Astros struck out 10 times total and did not have a runner advance past first base after the first inning.
Corey Long is a contributor to MLB.com This story was not subject to the approval of Major League Baseball or its clubs.