Scott's trio of RBIs lifts Rays in comeback win
Scott's trio of RBIs lifts Rays in comeback win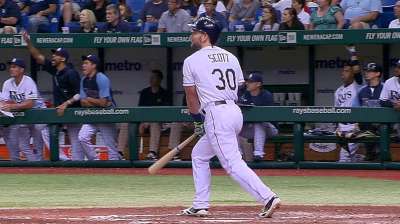 ST. PETERSBURG -- Spend one minute at Luke Scott's corner of the Rays' clubhouse, and it's plain to see that he's an avid hunter.
There is a boar's head affixed to the back wall of his locker. The spear he used to take it down from 12 feet away is next to it.
Scott might want to tack a baseball with horns next to the boar, as his self-described "hunter's approach" at the plate has helped the Rays win 13 of their last 15 games. Scott had the game-winning RBI in Saturday's 4-3 win over the Astros.
"Is there such a thing as a baseball taxidermist?" wondered manager Joe Maddon after the game.
Scott is hitting .274, but it wasn't always that way. His batting average hung in the low .200s for much of June.
He appears to be rounding back into the type of hitter he was for the Orioles in 2009 and 2010, when he posted over 25 home runs and 70 RBIs each season. Scott underwent right shoulder surgery to repair a torn labrum in 2011
"I'm hunting for a pitch or a location, and I lay off stuff that's not what I'm looking for until there are two strikes, and when I get it, I put my swing on it," Scott said.
The secret to Scott's turnaround isn't a secret at all, according to Maddon.
"He's been more patient at the plate," Maddon said. "He isn't expanding his strike zone. He's swinging at strikes, taking balls and accepting his walks. Everyone looks for these mechanical fixes when it comes to hitting, but the most important thing you could teach is probably strike-zone discipline."
Scott -- riding a nine-game hitting streak -- walked just three times in June. He has already collected six free passes in July.
"Maybe he has his night-vision goggles on," Maddon joked. "It's just better because he's making the prey come to him."
His walk percentage -- 11.3 percent of all plate appearances entering Saturday's game -- is at its highest point since 2010.
"Baseball is about feel," Scott said. "In hitting, there's a feel about knowing where the bat head is, your swing, all of it working together to know where the thing is going to end up in four-tenths of a second. The feel is good for me right now, and there has been a lot of patience and digging to get to this point."
While walking has recently become a strength for Scott, power is still very much a part of his game. He showed it Saturday when he blasted a two-run home run to right field to pull the Rays within a run in the fifth.
"Luke gave us the belief that we could get back into it," Maddon said.
For the second consecutive game, the Rays looked to be in trouble early when starter Roberto Hernandez gave up three runs in the first inning.
But after Scott's fifth-inning blast, Yunel Escobar hit a two-out double to left-center field and stole third base. Desmond Jennings then laid down a bunt single to score Escobar.
"There were no signs," Maddon said. "I want no credit for that. They see something and they have our full permission to go. We talk about freedom within the clubhouse, but I like freedom within the game also. There are times baseball players need to be able to do things on their own when they see something. Brilliant. I loved it."
Scott put the Rays ahead in the sixth after Wil Myers pushed a two-out single through the left side and stole second base. Scott then pulled a single to right field, scoring Myers and giving the Rays a lead they would not relinquish.
Houston starter Dallas Keuchel was removed for reliever Lucas Harrell before Scott's go-ahead hit, after retiring Ben Zobrist to get the inning's first out.
"I would have liked to have [stayed in the game]," Keuchel said. "That's just my mentality. I thought I deserved it, but it's [manager Bo Porter's] decision."
Hernandez got things under control after his shaky first, allowing just two more hits and striking out six total Astros before he was removed for Jake McGee to start the seventh.
The win was Hernandez's first since June 11. He had previously been plagued by a lack of run support.
"When you're always shaking somebody's hand and saying, 'Everything is good,' that's nice, but to be able to say that with your name attached to the win means a lot more," Maddon said.
Rays relievers McGee and Joel Peralta combined to hold Houston hitless in the seventh and eighth innings before Fernando Rodney picked up his 22nd save by setting down the heart of the Astros lineup in order in the ninth.
Sam Strong is an associate reporter for MLB.com. This story was not subject to the approval of Major League Baseball or its clubs.