Longo disappointed with recent at-bats
Longo disappointed with recent at-bats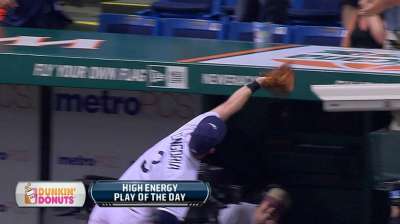 ST. PETERSBURG -- With all the success the Rays have been finding at the plate, Evan Longoria's slump has gone largely unnoticed.
Longoria's batting average fell to .281 after Friday's loss, its lowest point since April. Entering Saturday's game, he has just six hits in July, and he struck out looking to end the game Friday with the winning run at first base.
Longoria has shown signs of frustration, tweeting an apologetic message to Friday's starter David Price and throwing his bat down after a recent unsuccessful at-bat..
Manager Joe Maddon said he knows Longoria is frustrated, but he hasn't taken notice of anything unusual.
"He's a pro," Maddon said. "He knows he'll get through this whole thing. I haven't seen him upset with himself. I know he wasn't pleased with the last at-bat [Friday] night, but he's fine."
Horrible feeling when you can't help out a guy who pitched like @DAVIDprice14 did 2nite. #Cy

- Evan Longoria (@Evan3Longoria) July 13, 2013
Longoria sat out for three games at the end of June to nurse the plantar fasciitis that flared up in his right foot. Recently, he has shown no signs of the injury, leaping for line drives and stealing a base on Wednesday.
Maddon doesn't feel Longoria's slump is linked to the injury.
"It's one of those injuries where you manage the pain, and he's been able to do that, so that's just up to him on a particular night. But he's told me he feels pretty good," Maddon said.
Sam Strong is an associate reporter for MLB.com. This story was not subject to the approval of Major League Baseball or its clubs.