Baker empathizes with Braves' injury woes
Baker empathizes with Braves' injury woes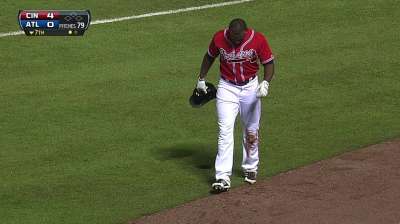 ATLANTA -- The business of Major League Baseball can be unforgiving -- at least once the game begins -- but outside the lines there is room for concern, especially when it comes to injured players, even in the opposite clubhouse.
Reds manager Dusty Baker showed his class by spending a majority of his pregame meeting with the media inquiring about the health of injured Braves outfielders Jason Heyward, who was hurt on Thursday night, and brothers B.J. and Justin Upton, who were hurt on Friday.
"They don't tell me what [the extent of an injury] is," Baker said.
Baker certainly empathizes with the plight his counterpart, Braves manager Fredi Gonzalez, is having this series. In fact, he recalled being on the wrong end of the injury bug one late July.
"I remember it happened to us in San Francisco in 2002," he said. "We lost every outfielder. We lost every one of them. We lost Barry [Bonds], we lost [Tsuyoshi] Shinjo, we lost Kenny Lofton. We lost all of them. I was wondering, 'What the heck is going on?'"
Baker got a lesson in perspective from his father during that stretch. It's a lesson he hasn't forgotten and one in which he still strongly believes.
"My dad told me don't think worse because it can get worse," he said. "I remember saying at that time, 'This can't get any worse than this.' Bam! We lose another one."
Those Giants eventually got healthy, won 95 games and advanced to the World Series before falling to the Angels in seven games.
Jon Cooper is a contributor to MLB.com. This story was not subject to the approval of Major League Baseball or its clubs.