Rangers end three-game skid and Scherzer's perfection
Rangers end three-game skid and Scherzer's perfection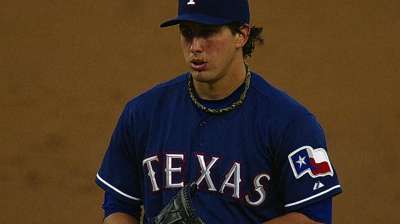 DETROIT -- Derek Holland isn't going to the All-Star Game unless at least a few pitchers call in sick or can't pitch that day. Tigers right-hander Max Scherzer is going to the All-Star Game, but he's not going there undefeated.
Holland and the Rangers took care of that, handing Scherzer his first loss of the season with a 7-1 victory over the Tigers on Saturday night at Comerica Park. Mitch Moreland provided one of the big hits with his first home run in almost six weeks, and that helped the Rangers snap a three-game losing streak.
Scherzer was trying to make history by being the first pitcher to start the season 14-0 since Roger Clemens in 1986. The Rangers kept that from happening, although they weren't particularly worried about the historic implications at stake.
"We needed a win no matter who it was against," outfielder Nelson Cruz said.
"That was the most important thing," second baseman Ian Kinsler said. "We're a good team, and it doesn't matter who is on the mound. But tonight we definitely needed a win. That's one of the best pitchers in the game. We got enough, our guy just did a little better job. We didn't blow [Scherzer] up, but Mitch's home run was a big swing, and from then on it was Derek."
Considering the losing streak Texas had entering the night, Scherzer being on the mound for the first-place Tigers and all the physical problems involving the Rangers' rotation lately, Holland's performance might have been better than his two-hit shutout of the Yankees last month.
"Both were big wins," Holland said. "Scherzer was 13-0, you have to give him credit. But tonight I was able to make some pitches when I needed to, and my defense did a great job. It's a great ballclub over there, so I guess you could say it was one of our biggest games."
Holland allowed one run on five hits over seven innings. He walked five and struck out seven while holding the Tigers 1-for-6 with runners in scoring position. The big outs came in the third in a scoreless game after a one-out walk to Austin Jackson and a single by Torii Hunter.
That brought up Miguel Cabrera, who hit a wicked line drive right at Cruz in right field for the second out. Holland walked Prince Fielder but struck out Victor Martinez to end the inning.
"Holland pitched awful good. We didn't do much with him," Tigers manager Jim Leyland said. "He had a real good curveball, and that's obviously where we swung at some bad balls. It was breaking pretty sharp, and hard to pick up. That guy is really good, we just didn't do much offensively, and Max wasn't at his sharpest. To me he's one of the better young pitchers in the league."
Holland's teammates rewarded his fortitude by breaking through against Scherzer in the fourth. Scherzer, who was trying to win his 14th straight decision, had retired seven straight hitters before Cruz grounded a double down the left-field line to lead off the inning. Adrian Beltre, protecting the plate on an 0-2 pitch, grounded out to first base and moved Cruz to third. That put Cruz in position to score on A.J. Pierzynski's fly ball.
"It's been a while since we played the game like that," manager Ron Washington said. "That's the way we're used to playing it."
Elvis Andrus kept the rally alive by drawing a walk, then Moreland crushed a first-pitch fastball over the left-field wall for a two-run homer, his first home run since June 4. He went 70 at-bats without a home run but also missed two weeks with a strained right hamstring.
"That part of the game, I was just trying to get a good pitch to hit," Moreland said. "I had the walk before me, and I got a first-pitch fastball middle away. I just put a good swing on it."
The Tigers scored one off Holland in the bottom of the inning on a two-out RBI single by No. 9 hitter Hernan Perez, but the Rangers got that run back in the top of the fifth on a two-out RBI double from Pierzynski.
"Ran into a good team," Scherzer said. "They swung the bat well. I threw some good pitches, they hit it. I made some bad pitches, they hit it even further. That's what happens when you're not quite 100 percent on your game."
The Rangers broke it open with a three-run ninth against Tigers reliever Al Alburquerque. Kinsler started the rally with a one-out walk and a stolen base, the 162nd of his career and a new Rangers record. He scored on an infield single by Cruz, and Beltre followed with a two-run homer.
T.R. Sullivan is a reporter for MLB.com Read his blog, Postcards from Elysian Fields and follow him on Twitter @Sullivan_Ranger. This story was not subject to the approval of Major League Baseball or its clubs.