Giants bust out offense to trounce Padres
Giants bust out offense to trounce Padres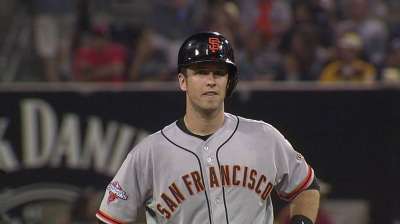 SAN DIEGO -- June 13 seemed like just another spin on the Giants' merry-go-round. San Francisco routed Pittsburgh, 10-0, as Matt Cain allowed two hits in 6 2/3 innings.
Nobody knew that virtually a month would pass -- 27 games, to be exact -- before the Giants would enjoy another game such as that one.
The Giants matched that double-digit season high for scoring with Friday night's 10-1 triumph over the San Diego Padres. Buster Posey drove in five runs, a 2013 best by a Giant, and capped his performance by doubling home two runs in a five-run seventh inning. Every starting position player hit safely as the Giants amassed 17 hits, equaling another season high.
"We know we're a good team, no matter what happened in the last month or so," said shortstop Brandon Crawford, who went 3-for-4 with a pair of doubles and two runs scored. "We have a lot of time left and a lot of games left in the season. We had a good second half last year, and I think if we can do the same thing, we'll be right back in it and we can win it again."
The outburst was both welcome and unusual for the Giants, who entered the game with a Major League-low 25 runs in July. Consider that they scored 10 runs in the final six games of their recent 1-8 trip.
"Hopefully, it does a lot for their confidence," Giants manager Bruce Bochy said after his club won back-to-back games for the first time since June 18-19, also against San Diego. "It's tough when you go through a long stretch like we did."
Moreover, the Giants received a victory from a starter other than Madison Bumgarner for the first time since that party in Pittsburgh, as Chad Gaudin muted San Diego for five-plus innings.
Ignoring the controversy surrounding the charge of lewdness he faces resulting from a January incident in Las Vegas, Gaudin improved to 3-0 in his six starts as a Giant while allowing one run and three hits.
"I just stayed focused on my job and what I had to do," Gaudin said.
The Giants' most spectacular pitcher was left-hander Jose Mijares, who relieved Gaudin with the bases loaded and nobody out in the sixth inning. Eight pitches later, Mijares triumphantly strutted back to the dugout after coaxing Yonder Alonso's first-pitch popup and striking out Jedd Gyorko and pinch-hitter Chris Denorfia.
"I was ready for everything," said Mijares, who defied the percentages by retiring right-handed batters Gyorko and Denorfia.
Padres manager Bud Black, whose club has lost 12 of its last 13 games and 17 of 20, echoed the desperation that Bochy has expressed during the Giants' struggles.
"You've got to weather the storm and come in each day with the expectation that you're going to win," Black said. "We've got to get that big hit, make the big pitch."
The Padres opened the scoring in the first inning as Alexi Amarista walked and came home on Chase Headley's double. Afterward, San Diego threatened Gaudin only in the third inning, which opposing starter Sean O'Sullivan began with a double off the base of the center-field wall. Everth Cabrera's sacrifice bunt and Amarista's walk left runners at the corners with one out. Gaudin responded by striking out two of San Diego's toughest hitters, Headley and Carlos Quentin.
Meanwhile, the Giants inched ahead. With one out in the third, Gregor Blanco grounded an infield hit, sped to third on Marco Scutaro's single and scored on Posey's sacrifice fly. Two innings later, Posey grounded into a double play with Blanco on first base and Scutaro on second. But Pablo Sandoval's RBI double salvaged the inning.
The Giants widened their lead with three runs in the sixth off Padres reliever Tim Stauffer. With the bases loaded and two out, Scutaro singled in Kensuke Tanaka with an infield hit up the middle. Posey followed with a single to right field that delivered Crawford and Blanco.
San Francisco's big seventh concluded its offensive bonanza. Hunter Pence began the outburst by singling, stealing his 14th base in 14 tries and scoring on a wild pitch. The Giants also received RBI singles from pinch-hitter Andres Torres and Scutaro, as well as Posey's double.
San Francisco also benefited from an obstruction call on third baseman Headley, who brushed Tanaka during a rundown. Though Tanaka was on the infield grass and clearly outside the baseline, umpire Laz Diaz applied Rule 7.08, which reads, "... A runner's baseline is established when the tag attempt occurs and is a straight line from the runner to the base he is attempting to reach safely."
Umpiring crew chief Mike Winters told a pool reporter, "The definition of obstruction is when you're not in possession of the ball and when you're not fielding the ball, you hinder the process of the runner. He's throwing the ball, so neither of those two things apply to him. He basically has to disappear at that moment. It was a textbook obstruction case and Laz ruled it exactly, 100 percent correctly."
Interestingly, the Giants were on the losing end of a similar interference call in 2007, when shortstop Omar Vizquel couldn't avoid a collision with Philadelphia's Shane Victorino nowhere near the basepaths.
Another case of somebody creating an obstacle for the Giants occurred in the third inning, when umpire Tim Timmons accidentally blocked Crawford from the ball as he tried to snare Amarista's popup. The ball fell untouched and Timmons ruled it foul, though televised closeups indicated that it landed in fair territory.
Ultimately, however, nothing got in the Giants' way.
Chris Haft is a reporter for MLB.com. This story was not subject to the approval of Major League Baseball or its clubs.