Chisenhall's slam, Kazmir's arm pace Tribe
Chisenhall's slam, Kazmir's arm pace Tribe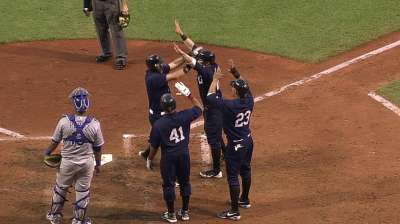 CLEVELAND -- There are moments when Scott Kazmir looks like a refined version of the pitcher he was in the past. There are also times when Lonnie Chisenhall provides a glimpse of the player the Indians believe he can be in the future.
Saturday was one of those nights.
Kazmir set the tone early on and spun a gem to help guide the Tribe to a 5-3 victory over the Royals at Progressive Field. Chisenhall powered the offense with a well-timed grand slam off Jeremy Guthrie, providing ample support for the starter and helping Cleveland claim a series win and its 50th victory before the All-Star break.
"Kaz had pitched well," Chisenhall said. "He deserved a win. I'm happy to be the one to help him out."
Kansas City threatened late, scoring all three of its runs following Kazmir's departure, but the late push was not enough to overcome the combination of the pitcher's outing and Chisenhall's home run. With the win, Cleveland (50-44) improved to 7-5 this season against the Royals.
Kazmir worked into the seventh inning, scattering four hits and getting nine outs via ground balls, to go with six strikeouts and three walks. The left-hander allowed only one single through the first three innings and used three groundouts -- two courtesy of a double play -- to avoid any harm after opening the fourth by giving up consecutive base hits to Eric Hosmer and Billy Butler.
The Tribe, which sported collared, dark blue, white-belted replicas of uniforms worn by the 1902 Cleveland Bronchos, can only hope that Kazmir -- signed to a Minor League contract over the winter -- has finally turned a corner after his turbulent first half.
"When he takes the mound," Indians manager Terry Francona said. "We feel like we're going to win."
There has been an assortment of ups and downs for Kazmir, who was out of the Majors and pitching in Independent ball last season, but the left-hander has been strong of late for the Tribe. Over his past five starts, Kazmir has fashioned a 2.32 ERA in 31 innings. It represents his best five-start stretch since Sept. 8-Oct. 3, 2009, when he had a 1.80 ERA across 30 frames for the Angels.
"It feels good," Kazmir said of his recent run of success. "It feels good to be able to go out there and throw strikes, and to be able to get quick outs and go deep into the game. It felt great. ... I feel like my delivery is more consistent, therefore my outings have been a little more consistent. I'm just going to keep at it."
Kazmir's pitching line took a slight hit after he ran into some trouble in the seventh inning against the Royals (43-48). He began the inning with back-to-back walks to Salvador Perez and Lorenzo Cain, and the pitcher was checked on the mound by a team trainer between the free passes. Kazmir (5-4) said he simply tightened up, but he stayed on the hill for one more out before turning the game over to reliever Matt Albers.
That is when Kansas City made its move, scoring three runs (two charged to Kazmir) against Albers.
"We hadn't scored in 22 innings," Royals manager Ned Yost said, "and then came back and made a game out of it in the seventh. It's been a bit of a struggle, but at least we had stuff going the last couple of innings."
Setup man Vinnie Pestano and closer Chris Perez held Kansas City down in the eighth and ninth innings, respectively, and the Indians were able to hold on for the win.
The Tribe had Chisenhall to thank for that.
Guthrie limited Cleveland to one run -- on a sacrifice fly from Jason Kipnis -- through the first five innings before the Indians' breakout in the sixth. Kipnis led off with a single, Michael Brantley later chipped in a one-out double, and Guthrie opted to intentionally walk Carlos Santana to load the bases. That set the stage for veteran Jason Giambi, who swung through a 3-2 pitch for a strikeout.
"G had a good at-bat and [Guthrie] snuck a fastball by him," Francona said. "[They had] a chance to wiggle out of that inning with us up, 1-0."
Chisenhall, who was sent to Triple-A Columbus earlier this season in light of his struggles on the big league stage, stepped up to the plate and wasted no time in avoiding a letdown. The Indians third baseman prepared for a first-pitch curveball, considering he was not able to handle that pitch in his previous plate appearance.
Chisenhall got what he wanted from Guthrie and pulled the breaking pitch into right field, where the ball carried over the wall and into the visitors' bullpen for a grand slam. The home run, which gave the Tribe a 5-0 lead, was the first career slam for Chisenhall, who has hit .323 (21-for-65) with 10 extra-base hits and 14 RBIs over his last 19 games.
"I took a little breather for a little bit and got back and started swinging," Chisenhall said. "I did all I could to work hard and continue to have good at-bats in Triple-A, and do what I could so I could help the Major League team when I got back."
Chisenhall certainly helped out on Saturday night.
"It's a good feeling," he said of the grand slam. "It's probably the best one of my career so far, especially it being a grand slam -- my first grand slam, too."
Cleveland hopes Chisenhall has plenty more clutch hits like that in his future.
As for Kazmir?
"He's looking like the guy that I used to watch on TV when I was younger," Chisenhall said. "When he's throwing the ball like that, it's fun to watch. It's fun to play behind."
Jordan Bastian is a reporter for MLB.com. Read his blog, Major League Bastian, and follow him on Twitter @MLBastian. This story was not subject to the approval of Major League Baseball or its clubs.