Schafer out at least an extra month with foot injury
Schafer out at least an extra month with foot injury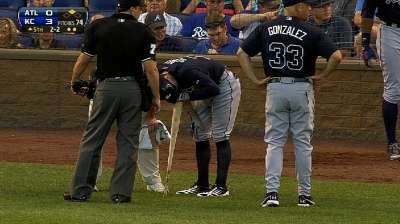 ATLANTA -- Over time, the ankle injury outfielder Jordan Schafer sustained when he fouled a ball off his foot on June 26 in Kansas City became something more unusual and more serious. The Braves announced on Friday night that an MRI revealed Schafer had an intraosseous stress fracture in his right foot and would need at least four more weeks to recover.
"It's a soft tissue injury that you treat over 7-10 days and see if it's going to get better," said Braves general manager Frank Wren. "He was X-rayed that day, there was no fracture revealed. After seven days, he still wasn't getting a lot better. It was X-rayed again -- still no fracture. And then after he started doing more, there were some things he could do and some things he couldn't. He started having more pain, so we took it to the next step and had the MRI done."
Wren said Schafer was two weeks into what is roughly a six-week recovery process, and that the outfielder would do more non-load-bearing activity in his rehab, such as working on the underwater treadmill.
The announcement came on the heels of the Braves losing starting outfielders to injury on consecutive nights: Jason Heyward is day to day with a strained right hamstring he sustained running the bases on Thursday, and B.J. Upton left Friday night's game in the top of the first inning with a right adductor muscle strain after diving for a ball in the outfield.
Wren said the Braves planned to take inventory after the game and discuss potential moves to restock their outfield. After B.J. Upton's exit, it consisted of rookie Joey Terdoslavich, utility man Reed Johnson and Justin Upton, who exited the game in the seventh inning with a calf injury.
"We'll talk after the game and see where we are once we get a better sense of everything," Wren said. "We'll definitely get together after the game and figure it out."
Wren added that the two pinch-hit appearances Schafer made in the team's home series against the Marlins less than a week after sustaining the initial injury did not worsen his ankle's condition.
"If we'd MRI'd it at time of the injury, this fracture would not have shown up," Wren said. "It's a type that over time, you get a better sense of it. It's just one of those strange situations."
Eric Single is an associate reporter for MLB.com. This story was not subject to the approval of Major League Baseball or its clubs.