Miscues derail Gorzelanny's impressive outing
Miscues derail Gorzelanny's impressive outing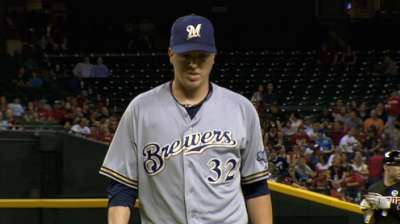 PHOENIX -- Take a cursory glance at the Brewers' box score from Friday and one would typically feel safe in assuming a positive outcome. On most nights, doubling the hit total of your opponent and not allowing an earned run all game would usually translate into a victory.
But that's not how the 2013 season has gone for Milwaukee.
The Brewers went 1-for-12 with runners in scoring position and committed two costly errors in the field as they dropped their third straight game, spoiling a workmanlike start from Tom Gorzelanny in a 2-1 loss.
"That's the story all season, when it rains, it pours," catcher Jonathan Lucroy said. "It was a battle, everything that could go wrong, did. We struggled tonight, and we beat ourselves."
Twice the Brewers put a runner on third with nobody out and twice the runner was stranded there, leaving a total of 11 on base while striking out 14 times. Afterward, Brewers manager Ron Roenicke voiced his disappointment with his club's RISP production, which ranks 25th in the Majors at .239.
"We certainly had opportunities, we just can't get it done," Roenicke said. "We don't do a good job with people on base, to have that many opportunities and not to have somebody come through ... it just shouldn't go on this long."
Lucroy, who continued his recent hot streak Friday by going 2-for-3 with a walk, said part of the reason for the struggles has to do with teammates trying to overcompensate for all the mainstays missing from the lineup.
"It's tough when you don't have Ryan Braun, Aramis Ramirez and Corey Hart in there, those guys are deadly," Lucroy said. "We have good hitters in here now, just guys are pressing to do too much because they feel the burden to perform. We have to slow everything down and try to stay within ourselves."
Making his third start of the season for Milwaukee on his 31st birthday, Gorzelanny turned in an excellent performance and certainly pitched well enough to win but received little help from the club's hapless offense and two errors, one of which he committed. Lifted for a pinch-hitter after just 84 pitches, the lefty finished his outing allowing just two unearned runs on three hits as he took the hard-luck loss.
"That's baseball, that's how it happens," Gorzelanny said. "Everything can't happen perfectly every time, I just have to deal with it and move on."
Even though Gorzelanny hasn't given up an earned run over 12 innings in his past two starts, the club isn't sure if he'll remain in the rotation after the All-Star break, saying only that he'll be considered.
"He'll be in the conversation, without a doubt," Roenicke said. "We'll regroup and try to see what our rotation will be in the second half, but he's done a good job and we'll definitely talk about him."
As they did Thursday, the Brewers took a lead in the first inning, this time without even hitting the ball out of the infield. After Jean Segura beat out a grounder to second for a single, a sacrifice bunt moved him over, and two wild pitches from All-Star lefty Patrick Corbin allowed him to score.
The lead didn't last long though, as in the bottom of the inning Gorzelanny threw wildly on a pickoff attempt to first, letting Adam Eaton move all the way to third on the error. The National League's RBI leader, Paul Goldschmidt, drove in Eaton moments later to tie the game at 1.
"I tried to get over there too quick and the ball slipped in my hand as I was throwing it," Gorzelanny said of the errant throw. "Everything from start to finish wasn't good, just a bad throw."
An inning later, the D-backs capitalized on another Brewers miscue to take the lead. With two outs and a runner on second, Yuniesky Betancourt couldn't handle a sharp grounder off the bat of Cliff Pennington as the ball deflected off his glove and into foul territory in left field, allowing Cody Ross to scamper home for the go-ahead run.
The Brewers appeared poised to even the score in the fourth when Lucroy led off the frame with a double and moved to third on another wild pitch. The next three batters, however, all were unable to push the run in as Rickie Weeks popped out, Sean Halton flied out to shallow right and Betancourt struck out.
Milwaukee blew another prime scoring opportunity in the seventh, putting runners on the corners with nobody out. But after pinch-hitter Khris Davis struck out and Norichika Aoki popped out, a Segura walk chased Corbin from the game and the D-backs brought in Will Harris to face Carlos Gomez, who chased a cutter up in the zone on a 3-2 pitch to end the inning.
The final missed chance to extend the game came when the Brewers worked the bases loaded once more in the eighth, only to see A.J. Pollock steal a go-ahead hit from Martin Maldonado with a full-extension diving catch in center field.
"I thought it had a good chance to drop, the guy made a good play on it," Roenicke said. "They are doing things not to lose, they are making plays fundamentally, we are not."
Tyler Emerick is an associate reporter for MLB.com. This story was not subject to the approval of Major League Baseball or its clubs.