Nicasio throws strikes to win return from Triple-A
Nicasio throws strikes to win return from Triple-A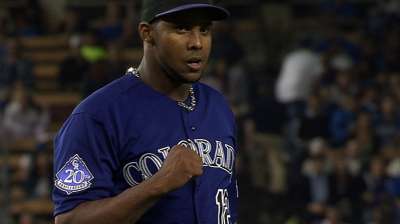 LOS ANGELES -- Before Friday night's game, manager Walt Weiss talked about how important it was for starter Juan Nicasio to throw strikes.
"Just a matter of throwing strikes," said Weiss. "His pitch count has mounted early, then the at-bats get extended and he winds up working really hard to get through five innings or so. He needs to be more efficient, and you do that by throwing strikes."
Weiss couldn't ask for anything more, as Nicasio shut down a red-hot Dodgers team, limiting them to three hits over seven shutout innings and leading the Rockies to a 3-0 win in Chavez Ravine.
"It was a clutch performance," Weiss said afterward. "To shut down a team like that when they are really rolling is very impressive. His fastball was really good, and possibly the best changeup he's had all year."
For Nicasio, it was lesson learned from his two recent starts with Triple-A Colorado Springs.
"I'm was working on my command and fastball, and was throwing a lot of fastballs for strikes down in the zone," he said. "I was told go to the hitter, throw strikes, so that's what I did."
It also helped that Colorado put two runs on the board before Nicasio even took the mound. Dexter Fowler led off with a single and stole his 13th base of the season before moving to third on a single by DJ LeMahieu. With runners on the corners and no outs, Dodgers starter Clayton Kershaw got Carlos Gonzalez to strike out, but Troy Tulowitzki pushed the first run across with a sacrifice fly. Catcher Wilin Rosario followed with a single to make it 2-0.
"It's critical, if you're going to beat a guy like Kershaw, you have to get to him early. Once he settles in, you're not going to gain anything off of him," said Weiss.
The Rockies didn't need anything else as Friday night's game was the Nicasio show, as he went deep into the game on 101 pitchers, 67 for strikes, before turning a lead over to the bullpen.
The only thing Nicasio didn't manage was throw first-pitch strikes, as he started off the majority of the batters with balls. Still, Weiss was happy because Nicasio came right back and pounded the zone.
"Even when he didn't get strike one," Weiss said, "he came back and stayed in attack mode instead of trying to be fine because he's in a 1-0 count."
Dodgers manager Don Mattingly also appreciated Nicasio's performance.
"He's kind of one of those effectively wild-type guys," he said. "I don't think his stuff has ever been in question. It's a matter of him being able to get ahead in the count, and tonight he was able to. I thought he did a nice job."
Rex Brothers pitched a scoreless eighth and Rafael Betancourt finished out the shutout for his 14th save, but the night was all about Nicasio.
"For him to step up like he did tonight was huge for the team, but also huge for him," Weiss said.
Glenn Rabney is an associate reporter for MLB.com. This story was not subject to the approval of Major League Baseball or its clubs.