Career-worst first sets tone as Stras, Nats fall
Career-worst first sets tone as Stras, Nats fall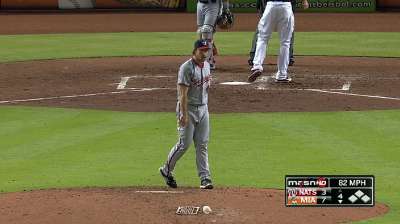 MIAMI -- Right-hander Stephen Strasburg had arguably the worst game of his career as the Marlins pounded the Nationals, 8-3, at Marlins Park on Friday night.
Washington got off to a good start, giving Strasburg a three-run cushion in the first inning against right-hander Nathan Eovaldi. Denard Span and Ian Desmond scored on a double by Adam LaRoche. After Ryan Zimmerman struck out, Jayson Werth grounded out, but Bryce Harper scored on the play to make it a 3-0 game.
But Strasburg had serious problems throwing strikes. Three out of the first four batters he faced reached on a walk, and all three of them scored on a triple by Marcell Ozuna to tie the score at 3. Derek Dietrich followed with a single to right field, scoring Ozuna. Dietrich scored the fifth run of the inning on a single by Eovaldi.
The five runs were the most Strasburg has given up in one inning in his career. He didn't have any excuses for his disappointing performance, acknowledging that he had mechanical problems and wasn't throwing strikes.
"It's frustrating. I threw ball one, ball two. The batters put a good swing [on the ball]," Strasburg said. "I was too much open to home plate to start. That messed everything up from there. It caused me to fly open even more."
Miami added to its lead in the second when Giancarlo Stanton hit a mammoth two-run homer over the right-field wall. Strasburg lasted just two innings and allowed seven runs. His ERA jumped from 2.45 to 2.99.
"We had a pretty good roll going and we come back and give it away. That's tough," LaRoche said.
"I've seen [Strasburg] really good a few times. I've seen him struggle out there," Marlins manager Mike Redmond said. "Today was just one of those days where Strasburg really looked out of whack. He was struggling to command really all of his pitches. You don't see that too often, but I was glad we were able to take advantage of it."
Strasburg will have to wait until after the All-Star break to get back on the mound. His first start after the break is most likely Friday against the Dodgers.
"You are always trying to get better, always trying to learn. It's these types of games where you have nothing working," Strasburg said. "You take a step back, just pick it apart a little bit. You kind of see the flaws a little bit more."
To catcher Wilson Ramos, Strasburg is thinking too much on the mound. Ramos doesn't like when Strasburg's head is down when things are going wrong in the game.
"He walked one guy and his head is down. I don't like to see that," Ramos said. "We'll have time to talk. Hopefully, next time, he'll be better."
Eovaldi, on the other hand, ended up with a quality start, allowing three runs in six innings. After the first, the Nationals had a runner in scoring position once against Eovaldi, and that was in the second inning. Ramos led off with a walk and advanced to second on a sacrifice by Strasburg. But Span flied out to Ozuna in center field and Ian Desmond struck out to end the threat.
"When you get off to a good start and then you give back five runs, it can take the air out of the tires real quick," manager Davey Johnson said. "I thought he made some pretty good pitches. He had a pretty live fastball."
If there was a bright spot in this game for the Nationals, it was right-hander Ross Ohlendorf, who pitched four shutout innings and struck out four batters.
"He has been outstanding ... since he got here. He has been great," Johnson said. "That was a big boost for the bullpen. So we'll be ready for tomorrow."
Left-hander Fernando Abad allowed the eighth and final Marlins run. After getting two quick outs, Abad allowed an infield single to Dietrich and an RBI double to Adeiny Hechavarria to make it a five-run game.
With the loss, the Nationals fell to 47-46.
Bill Ladson is a reporter for MLB.com and writes an MLBlog, All Nats All the time. He also could be found on Twitter @WashingNats. This story was not subject to the approval of Major League Baseball or its clubs.