Eovaldi settles, joins fun as Marlins drub Strasburg
Eovaldi settles, joins fun as Marlins drub Strasburg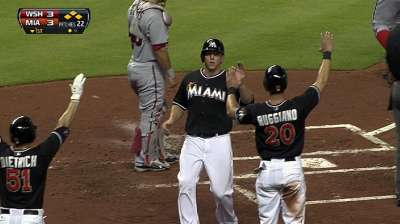 MIAMI -- It wasn't how the Marlins started, but how they finished that was telling on Friday night.
Nathan Eovaldi rebounded from a rough first inning, while Marcell Ozuna laced a three-run triple and Giancarlo Stanton belted a two-run homer in the Marlins' 8-3 comeback win over the Nationals at Marlins Park.
Piecing together an impressive team effort, the Marlins made it a quick night for Stephen Strasburg, and they opened the weekend series against the Nationals on a positive note.
Eovaldi (2-0) worked five straight scoreless frames after allowing three runs in the first. He exited after six innings, logging a season-most 100 pitches. He gave up one hit from the second through sixth innings, walked four and struck out five.
The Marlins picked up Eovaldi by tagging Strasburg for five runs in the bottom half of the first. The Marlins sent 10 men to the plate, marking the first time in club history they sent nine-plus to bat in consecutive games. They batted around in the first in Wednesday's 6-2 win over the Braves.
"The first inning, I don't think was how anybody drew it up," Marlins manager Mike Redmond said. "I don't think anybody anticipated that. Fortunately for us, we were able to really come out there and just have some great at-bats."
In his career, Stanton now has 15 home runs and 34 RBIs against the Nationals, personal bests against any team. He's also 7-for-17 (.412) with two home runs in his career off Strasburg.
Adeiny Hechavarria had two hits and an RBI, extending his hitting streak to 11 games, a career best.
Entering the game, Strasburg enjoyed his most success against the Marlins. His 11 career starts and five wins vs. Miami are highs in both categories. On Opening Day, Strasburg threw seven shutout innings against the Marlins, limiting them to three hits at Nationals Park.
It was a different story on Friday.
The Marlins tagged Strasburg for seven runs on five hits in two innings. The hard-throwing right-hander also walked four, while striking out two. His night was finished after 66 pitches, with half of them for strikes.
"I kind of let the first inning get the best of me," Eovaldi said. "The guys picked me right up when we got back into the dugout. That was huge.
"To put together the at-bats we did against Strasburg. They're a great hitting team and he's a great pitcher. To be able to come back and score some runs like that ..."
Stanton's two-run homer to right in the second inning padded Miami's lead to 7-3. Again, it was a walk to open the inning that hurt Strasburg. After Ed Lucas drew a free pass, Stanton battled back from 0-2 to work the count full. The slugger lined a 96-mph fastball into the Marlins' bullpen.
"It's frustrating," Strasburg said. "I threw ball one, ball two. The batters put a good swing [on the ball]. I was too much open to home plate to start. That messed everything up from there. It caused me to fly open even more."
The drive was Stanton's ninth of the season, and his first since June 29 against San Diego.
It was a tiring, taxing first inning for both starters. Eovaldi labored to start the game, throwing 32 pitches while allowing three runs. Still, the Miami right-hander found himself with the lead entering the second inning.
That's because Strasburg surrendered five runs on 36 pitches in the first inning.
A walk to Denard Span to open the game put Eovaldi in an immediate bind. Ian Desmond's single put runners at the corners and Bryce Harper walked to load the bases with no outs.
"That first inning, I almost think I let that first at-bat get to me, walking him," Eovaldi said. "I take pride, especially leadoff walks, two-out walks. I just didn't regroup after that. I looked at the replay. They weren't bad pitches."
Eovaldi struck out Ryan Zimmerman, but gave up a two-run double to Adam LaRoche. Jayson Werth's RBI groundout to shortstop gave Washington three runs before Strasburg threw a pitch.
In the bottom of the first, Strasburg had control issues early, walking Justin Ruggiano, Stanton and Logan Morrison. Ozuna cleared the bases with a three-run triple. Derek Dietrich added an RBI single, and Eovaldi helped himself with a two-out, run-scoring single to right.
Ozuna's triple came in his first big league at-bat against Strasburg, but it wasn't the first time the rookie outfielder saw the hard-throwing right-hander.
A few years ago, when Ozuna was at low Class A Greensboro, he struck out against Strasburg, who was making a rehab appearance.
"I said, 'OK, he threw hard,'" Ozuna said. "Now, 96 [mph] sometimes, 93, 92. That's his average right now with his fastball." I was saying, 'Let me take it up the middle, no matter what.'"
Boosted by early run support, the Marlins were able to capitalize and frustrate the Nationals in spacious Marlins Park. Harper lined out to deep center off Mike Dunn with two on in the seventh inning. In disgust on a deep fly that resulted in the third out, Harper slapped his helmet to the ground.
And in the eighth inning, Werth unloaded a drive to deep left off Dunn. It turned into a long double, instead of a home run.
"It's a big park out there, and I'm sure those guys realize how big it is after tonight's game," Redmond said. "But we use it to our advantage. We have the ability to throw a few more fastballs and let guys whack away. It's big out there. It plays big as well."
Joe Frisaro is a reporter for MLB.com. He writes a blog, called The Fish Pond. Follow him on Twitter @JoeFrisaro. This story was not subject to the approval of Major League Baseball or its clubs.