Ibanez nominated for Branch Rickey Award
Ibanez nominated for Branch Rickey Award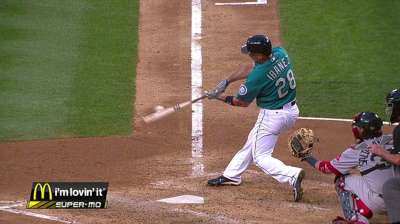 SEATTLE -- Raul Ibanez has been raking at the plate this season and now the 41-year-old has a chance to rake in some hardware. The Seattle outfielder has been nominated for the Branch Rickey Award, which recognizes a Major League Baseball player, manager, coach or executive for "contributions to the community or their status as a role model."
Ibanez has no shortage of contributions that solidify his status as a community leader. He has co-chaired the Mariners Care Cystic Fibrosis Golf Tournament six times, raising over $1.76 million to combat the illness. He has also served as the spokesperson for the Mariners Refuse to Abuse program, which seeks to curb domestic violence.
Ibanez credits mentors from his early days playing for the Mariners with showing him the importance of giving back and being active in the community.
"Jay [Buhner] used to do the Cystic Fibrosis golf tournament, so when they asked me to do it I was honored and humbled because I knew that Jay did it and Randy [Johnson] had done it," Ibanez said. "I knew that it was a big deal and provided a lot of funding for what's a disease that we're getting closer to a cure for."
Ibanez has also supported local charities such as the Make-A-Wish Foundation, Page Ahead Children's Literacy Program, Boys and Girls Clubs and others.
The Rotary Club of Denver and the Major League Baseball Players Alumni Association sponsor the award to benefit Denver Kids, Inc., an organization that provides Denver public school students with mentors.
With all the accolades he's received, Ibanez says that it is his turn to now impart the importance of charity to younger players, as his role models once did to him.
"I like to talk to them about it, but to their credit they ask," Ibanez said. "And they want to listen and they want to talk about it. I learn a lot from them, too."
The honor is named for the late Branch "Mr. Baseball" Dickey, the man who broke the MLB color barrier by signing Jackie Robinson in 1945. Branch also founded the "Knot Hole Gang," which allowed underprivileged children to attend Major League games.
Jamie Moyer won the award while with the Mariners in 2004.
The 2013 Branch A. Dickey Award will be presented in Denver on Nov. 16.
Greg Johns is a reporter for MLB.com. Follow him on Twitter @GregJohnsMLB as well as his Mariners Musings blog. Jacob Thorpe is an associate reporter for MLB.com. This story was not subject to the approval of Major League Baseball or its clubs.