Tulo's hitless return small price for All-Star shortstop
Tulo's hitless return small price for All-Star shortstop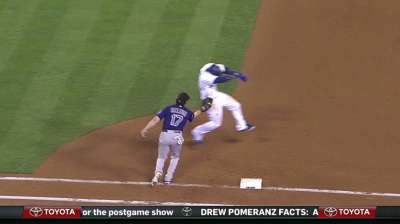 LOS ANGELES -- Two of the best shortstops in baseball returned to action Thursday night, with decidedly different results. For the Rockies' Troy Tulowitzki, it was an 0-for-4 night with three strikeouts, but more importantly, he finished the game feeling fine.
"He said he felt pretty good last night," said manager Walt Weiss, "which is kinda funny, since he struck out three times."
In New York, Yankees captain Derek Jeter went 1-for-4 with an RBI and a run scored, but he strained his right quadriceps and will not play again before the All-Star break.
"He was out for nine months, so that's a little different," said Tulowitzki, who missed nearly a month with a broken rib. "You really can't simulate some of those things in Minor League games. The speed is different and it something you can't get used to."
Tulowitzki's injury didn't involve his legs, but he knew he had to make sure he was cautious.
"I'm definitely being careful, making sure my legs are under me and slowly working into it instead of going all out," he admitted, adding that "sometimes your instincts take over and you have to make a move that your body's not ready for."
With Tulowitzki's history of injuries, he's more aware of making sure he doesn't do any harm.
"Last year I had a groin injury, came back and then had to have surgery," he said. "It was just being back on the field again at game speed."
For Tulowitzki, it means trying to control himself and be aware of situations, when to go all out and when to be more cautious.
"It's still there in the back of your mind, always," he said.
For the Rockies, maybe a few strikeouts the first night back wasn't such a bad thing.
As for someone who's spent more than his share of time on the disabled list, Tulowitizki understood what Jeter must be going through.
"I feel for him," he said.
Glenn Rabney is a contributor to MLB.com. This story was not subject to the approval of Major League Baseball or its clubs.