Angels stumble behind Williams in Seattle
Angels stumble behind Williams in Seattle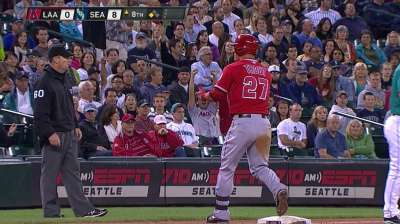 SEATTLE -- The Angels' plans for their depleted starting rotation have been crumpled up, tossed out the window and rewritten quite a few times over the course of an inconsistent, injury-laden first half of the season.
Things got even more frustrating on Friday night in an 8-3 loss to the Mariners at Safeco Field.
Jerome Williams, who rejoined the rotation on June 22 when Jason Vargas went on the disabled list with a blood clot near his left armpit, was ineffective for the third straight start, and one potential replacement, long reliever Garrett Richards, was an improvement but still gave up two home runs late in the game.
Vargas cannot be counted on to return by the next go-around for this slot of the rotation, which will be July 23, although right-hander Tommy Hanson (right forearm strain) could come back by then. In the meantime, it will still be up to Williams, who had a chance to rebound from his recent woes but couldn't get it done.
Williams had allowed 17 runs (16 earned) in 17 innings since being reinstalled in the rotation, although he had lasted 1 2/3 innings and three-plus innings in his last two starts. On Friday night, the trend continued.
Raul Ibanez, the 41-year-old Mariners outfielder who has been displaying a history-making late-career power surge, hit an RBI double in the first inning to make it 1-0, Kyle Seager homered to lead off the second to make it 2-0 and Seattle sealed Williams' and the Angels' fate in a rousing four-run fourth.
Ibanez led off the inning with a monster home run into the Hit it Here Cafe high above the right-field bleachers, giving him 859 feet of homers in the game and 24 on the season. He's well on pace to break Ted Williams' single-season record of 29 home runs by a Major Leaguer over the age of 40.
"He's always been a good fastball hitter, and right now he's not missing them," Angels manager Mike Scioscia said of Ibanez. "I don't care what number's next to his age."
Mike Zunino and Dustin Ackley hit RBI singles to chase Williams, who gave up six earned runs on seven hits in 3 1/3 innings while throwing 68 pitches.
"Right now, we're a little banged up, waiting for some guys to come back," Scioscia said. "Jerome has hit a little rough patch in the last three starts, but I think, with some simple adjustments, hopefully he'll get back to where he needs to be.
"Out of the 17 hitters he faced, he must have been in hitting counts with almost all of them. It was tough. He pitched behind in the count far too many times for what you want to see him do, and he paid a price for it."
But Scioscia said Williams will get another start when play resumes following next week's All-Star break. Williams said he'll use the time off to try to rectify the problems that have been plaguing him of late.
"I'm not controlling the counts," Williams said. "That's basically it. I have to be more aggressive in the zone instead of trying to get that perfect pitch on the first pitch.
"It's frustrating, of course, but I can't let that bother me. Hopefully, this break right now will get me back on track, and in the second half I'll turn it around."
Meanwhile, the Angels' bats were held in check by a former Angels pitcher, left-hander Joe Saunders, and the team dropped the opener of a three-game American League West series to fall back to three games below .500 at 44-47.
Saunders pitched seven innings of shutout ball, striking out five and walking two in 109 pitches.
"We really needed him to step up for us tonight and he did," Mariners manager Eric Wedge said. "That's a good offensive club over there with a lot of proven, veteran guys. I thought he did a great job of being aggressive, especially early in the count. I thought he also did a great job of throwing any pitch at any point in time in the count."
Richards came in and immediately wild-pitched in the Angels' sixth run but settled down nicely after that, striking out four straight batters into the fifth. Richards looked good until the seventh, when he gave up another solo homer to Ibanez and the next batter, former Angels first baseman Kendrys Morales, backed it up with a homer of his own that made it 8-0.
The Angels showed a bit of life in the top of the eighth when Erick Aybar singled off Seattle reliever Danny Farquhar and Mike Trout followed with an RBI triple to left center field. The next batter, Albert Pujols, singled home Trout to make it 8-2, and the rally culminated with a fielder's choice RBI by Mark Trumbo, but Seattle's bullpen closed it down from there.
Doug Miller is a reporter for MLB.com. Follow him on Twitter @DougMillerMLB. This story was not subject to the approval of Major League Baseball or its clubs.