Marshall tosses encouraging bullpen session Friday
Marshall tosses encouraging bullpen session Friday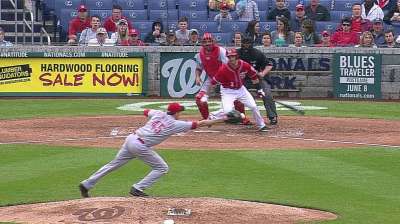 ATLANTA -- Sean Marshall took another step toward getting back into the Reds' bullpen plans, throwing a 50-pitch bullpen on Friday afternoon at Turner Field.
"I used all my pitches to both sides of the plate. It was very good, very encouraging," Marshall said of the session, in which he threw 25 warmup pitches, then 25 to batters.
Marshall has been on the disabled list since May 24th with a left shoulder sprain. It's his second stint on the disabled list with shoulder issues, having gone on the DL in early April.
Reds manager Dusty Baker was pleased by the session, but he measured his enthusiasm.
"Yeah, he is [getting closer]," said Baker. "We'll wait and see tomorrow, because he was getting close before, but it was always the second day after or the third even. He's closer but he still has to go back-to-back. He threw some pretty good breaking balls. He wasn't sharp, midseason form, but he was pretty close. He threw well."
Marshall said he may throw another bullpen on Sunday, but regardless, he promised to keep active during the All-Star break. He has yet to receive specifics from the team, other than to proceed with caution.
"It's been a little bit slower process than the last time I came off the DL," Marshall said. "They've been taking their time with me. Our owner, Bob Castellini, told me, 'Just take your time. Make sure it's right. There's no hurry to come back.' It's good to hear that from the front office, that they're confident in me just taking my time to get ready, and our bullpen's been doing a fantastic job. That's been a good sight to see for us.'
A good sign for him is that there have been no setbacks thus far in his rehab.
"That's been very encouraging for me and I'm sure for the training staff as well, for our coaches," Marshall said. "We're just working hard every day, putting in a lot of time and a lot of effort trying to get myself strong and ready to pitch. My body feels as strong as it's been all year. So hopefully all this work is going to pay off for the home stretch."
Marshall has made 11 appearances in 2013, pitching seven innings and allowing two earned runs (2.57 ERA), and he is holding hitters to a .160 average.
Jon Cooper is a contributor to MLB.com. This story was not subject to the approval of Major League Baseball or its clubs.