Braves lose Uptons, fall after Medlen's rough outing
Braves lose Uptons, fall after Medlen's rough outing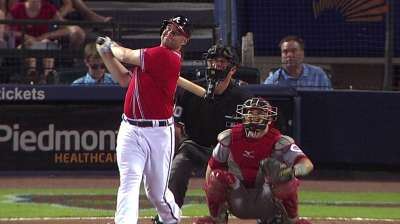 ATLANTA -- With all three Opening Day outfielders sidelined due to injuries by Friday night's final pitch, a shorthanded Braves lineup struggled to solve Reds starter Bronson Arroyo on the way to a 4-2 loss in front of a Turner Field crowd that left stunned at the attrition wrought by a mere 24-hour span of baseball.
Arroyo retired the first eight batters he faced and went seven innings to earn his seventh career win against the Braves, allowing just three hits and a walk. Meanwhile, injuries to both B.J. and Justin Upton helped crater any chance the Atlanta offense had of bouncing back from a 3-0 deficit after the first inning.
One night after Jason Heyward left in the second inning with a strained right hamstring, B.J. Upton exited in the bottom of the first on Friday night with a right adductor muscle strain. The Braves outfield took another hit in the bottom of the seventh inning, when Justin Upton pulled up with a left calf strain while running out a ground ball and walked gingerly back to the dugout. After a nightmarish 24 hours, the Braves ended Friday's game with an outfield consisting of bench players Joey Terdoslavich, Tyler Pastornicky and Reed Johnson.
The Reds struck for three runs in the top of the first inning at the expense of Atlanta starter Kris Medlen, who gave up nine hits in four-plus innings of work on the way to his second consecutive loss.
"It was the same mechanical issues I've really dealt with all year," Medlen said of his struggles going back to Sunday's 7-3 loss in Philadelphia. "I'm not giving up many hits with my changeup, it's been all my fastball with location and the same exact things I've been dealing with."
With two Cincinnati runs already on the board in the top of the first, Todd Frazier hit a sharp line drive to shallow center field that brought B.J. Upton in on a dead run. As Upton dived for the ball, his right knee appeared to stick in the ground awkwardly, and the ball bounced off his glove and into right-center field, allowing Frazier to take third base for an RBI triple.
Upton was able to walk off on his own power, and the Braves sent in Terdoslavich, shifting over Johnson and Justin Upton to fill the hole in the outfield. By the end of the night, two Braves -- Pastornicky and Terdoslavich -- were sent out to man the outfield for the first time in their Major League careers.
"I've definitely never seen that before, but they play hard out there, and we need them to make plays and they're trying to make plays," Medlen said of the injuries. "It's unfortunate, but it's part of the game and we need dudes to step in for them if they're not OK to go."
The Reds chased Medlen from the game after the right-hander loaded the bases with no outs in the top of the fifth inning. Rookie left-hander Alex Wood came on and retired 10 straight batters in relief. He gave up Jay Bruce's fifth-inning sacrifice fly to right field that scored Derrick Robinson, but he prevented any further damage and exited to a standing ovation after walking Frazier in the eighth inning.
"I think the last time somebody came in with the bases loaded out of the bullpen against Cincinnati, it was in Cincinnati, and it was me, and I gave up a grand slam," Medlen said. "I told him that afterwards, I was like, 'Dude, good job.' That's a really tough thing to get out of, especially given the circumstances, and to only give up one run out of that, it's a pretty big deal."
Brian McCann's solo home run in the seventh inning accounted for the Braves' first run. McCann took Arroyo's 3-2 sinker deep to right for his 11th home run of the season, snapping another streak of eight straight Atlanta batters retired for Arroyo.
The Braves got another run back off fireballing Reds closer Aroldis Chapman, who hit as high as 104 mph on the Turner Field radar gun and worked two quick outs in the bottom of the ninth before Pastornicky walked to keep the Braves alive. Then, down to his last strike, Freddie Freeman dropped a slider into center for a bloop single, driving home Pastornicky from second to make the score 4-2 before McCann popped out to end the game.
"Freeman's at-bat was pretty remarkable," Arroyo said. "There's only been a few guys we've seen in this league, Tulowitzki and Joe Mauer, really handle him in that way, where they've been able to foul some pitches off at excessive speeds and then come back and hit the breaking ball for a base hit and keep your team in the game."
A few weeks ago, questions swirled as to how the Braves would address the depth of their ailing bullpen, only to have Wood and other relievers step up and gain the confidence of their teammates in timely situations. Now, those same questions will be cast upon an untested outfield as the Braves limp into the All-Star break.
"We talk about those right from the very beginning of Spring Training," Gonzalez said. "Everybody's going to go through injuries. The teams that survive those over the course of the year are going to be there at the end. You feel pretty good that we can survive those type of injuries where you're banged up, and we have to do it. We have to survive it."
Eric Single is an associate reporter for MLB.com. This story was not subject to the approval of Major League Baseball or its clubs.