Mets outlasted by Pirates, drop opener in 11th
Mets outlasted by Pirates, drop opener in 11th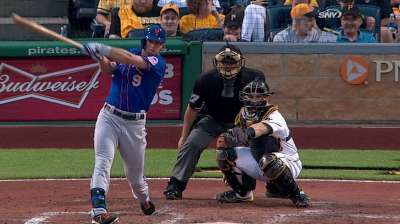 PITTSBURGH -- Both the Mets and Pirates had their chances in extra innings Friday night, but neither could provide any type of big knockout punch. So Pittsburgh simply used a seeing-eye single to get it done.
Jordy Mercer's slow-rolling RBI single off Gonzalez Germen scored Andrew McCutchen and handed the Mets a 3-2 loss in 11 innings at a sold-out PNC Park.
"It just came down to getting that big hit first," Mets third baseman David Wright said. "They just got it before we did."
Germen, making his Major League debut, last pitched on July 6 with Triple-A Las Vegas, and hadn't seen action besides that since June 29. One of two available arms in the Mets' bullpen with LaTroy Hawkins dealing with a sore shoulder, Germen started his career by walking McCutchen in the 11th. He then struck out Pedro Alvarez before issuing a free pass to Russell Martin. That brought up Gaby Sanchez, who struck out swinging.
Mercer then grounded one -- Wright called it a "20-hopper" -- through the middle to end it with Mets shortstop Omar Quintanilla shaded a step or two to his right. Vin Mazzaro pitched a scoreless 11th to pick up his fifth win.
"With Cutch on second, you know any hit that finds any kind of green will score him, and that helps your confidence going to bat, for sure," Mercer said. "I knew they were shifted a little to the left side, so as soon as I saw the ball get past the pitcher, I knew it had a good chance to get through."
"It was a pretty good pitch because it was a ground ball," Germen said, translated through bullpen coach Ricky Bones. "But it was well-hit, well-located in the middle of the field so no one could catch it."
The Mets threatened in the 10th when Juan Lagares slapped a base hit the other way off Tony Watson, then Daniel Murphy singled with two outs following a fielder's choice. But Wright drilled a fastball Bryan Morris left up in the zone directly at McCutchen in center.
Mets lefty Josh Edgin prolonged the game twice, working out of a jam in the ninth by getting Sanchez to ground out to first with the bases loaded after they had used four pitchers in the inning. In the 10th, he did it again, forcing a Jose Tabata groundout with Clint Barmes on second and two outs.
The Mets forced extras because Kirk Nieuwenhuis took Pirates starter Charlie Morton deep to right-center field in the seventh to tie the game after Wright cut a 2-0 lead in half with a bloop single to right in the sixth to score Eric Young, who had doubled. The Mets played their 19th extra inning this month.
"Extra innings, every once in a while aren't that bad," Wright said. "But when you make a habit out of it like we do, on top of that, not just play 10 or 11, but have a tendency to play more than that, it catches up with you."
Jeremy Hefner had been dominant over his last seven starts for New York, posting a 3-1 mark with a 1.64 ERA, and he was again Friday.
The righty bounced back from Alvarez's two-run homer in the first inning by retiring the next 14 batters. He finished the day with two runs, three hits, no walks and three strikeouts charged over seven innings. He threw just 78 pitches.
"Last year, maybe even at the beginning of this year, I would've folded or given up more runs," Hefner said. "I am proud that I've been able to bounce back and turn the page and still get quality outings after I give up runs early."
Hefner was surprised to exit the game with his pitch count that low, but Mets manager Terry Collins said he wanted to see if pinch-hitter Jordany Valdespin could change a tie game with one swing leading off the eighth. But the lefty struck out after pulling back a bunt earlier in the at-bat.
"The eighth inning, we were either going to try and win this game, or keep playing for a tie," Collins said.
The Mets were winners in five of their last six games entering Friday, scoring nearly seven runs per game. But Morton stymied the New York offense for the most part, allowing two runs, six hits and one walk over seven innings, striking out four. Mark Melancon and Jason Grilli pitched scoreless eighth and ninth innings for the Bucs.
Alvarez, who Wright added to the National League Home Run Derby team Thursday, put a two-seam fastball from Hefner 410 feet into the Mets' bullpen in the first after Tabata reached on an infield single.
Wright, with boos raining down from the crowd because of Alvarez's original exclusion from the Derby, extended his hitting streak to 12 games with a double to left-center in the fourth.
Steven Petrella is an associate reporter for MLB.com. This story was not subject to the approval of Major League Baseball or its clubs.