Escobar productive lower in KC's batting order
Escobar productive lower in KC's batting order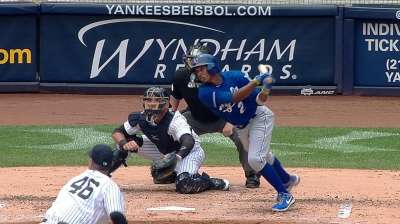 CLEVELAND -- After Alcides Escobar batted in the No. 2 spot in the Royals' order for 15 of his previous 16 games, the shortstop was dropped to the bottom of the order again on Friday night against the Indians.
Escobar batted seventh with Eric Hosmer moving back up to second, followed by Billy Butler third and Salvador Perez fourth.
"It's production," manager Ned Yost said. "Esky's been more productive so far out of the nine-hole. He's been as productive out of the nine-hole as he is against left-handed pitchers -- .300 batting average, .330 on-base. If he's productive as that against right-handed pitchers at the bottom of the order, let's take it."
Escobar wasn't ninth in the Cleveland series opener because Jarrod Dyson, who normally bats ninth, was in the lineup in center field instead of Lorenzo Cain, while Elliot Johnson was at second base instead of Johnny Giavotella. Cain and Giavotella would normally bat ahead of Escobar.
"If he's got better numbers down at the bottom, it's better for him, it's better for us, it's better for everybody," Yost said.
Yost had the Royals' statistical specialists run some numbers on Escobar. Among them:
"Batting second, he's hitting .242 with a .275 on-base. Batting ninth, he hitting .298 with a .327 on-base," Yost said.
Simply put, Escobar is getting on base more often when he bats lower in the lineup. However, because he also hits left-handed pitchers very well (.302), Escobar likely will go back up to No. 2 when a lefty pitches for the opposing team.
"We're striving to get back to .500 and we've got to do it by scoring runs and utilize our good pitching, and our good defense," Yost said.
Dick Kaegel is a reporter for MLB.com. This story was not subject to the approval of Major League Baseball or its clubs.