Struggling Profar remains in lineup
Struggling Profar remains in lineup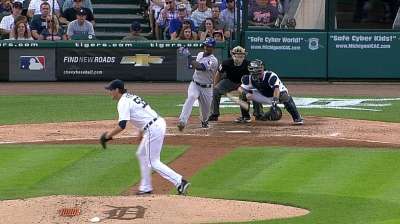 DETROIT -- Jurickson Profar started in left field on Friday night, marking the fourth straight day he has been in the lineup and sixth time in the last seven games. He also went into the game with just one hit in his last 18 at-bats.
"I'm just missing a lot of balls," Profar said. "It's going to come. I'm confident. I'm working hard in the cages. It's going to come soon."
Profar showed signs of snapping out of his slump, going 2-for-4 with an RBI single in a 7-2 loss to the Tigers.
This was the third time in his last six starts that Profar has started in left field. He also started once each at third, short and second base. But manager Ron Washington said Profar's struggles at the plate are not from playing multiple positions.
"They are two different things," Washington said. "Now, I could see it affecting him at the plate if he was messing up at those positions, but that's not the case. No one said it was going to be easy, but he's an athlete. I don't see where he can't handle it.
"What you're seeing offensively is inexperience. That's all it is. Every once in a while, he'll go up there and catch one, but he just hasn't had a whole lot of time up here. He doesn't know these pitchers. It's a whole new experience. It takes time unless you are a serious stud."
T.R. Sullivan is a reporter for MLB.com. Read his blog, Postcards from Elysian Fields, and follow him on Twitter @Sullivan_Ranger. This story was not subject to the approval of Major League Baseball or its clubs.