Buehrle gives up three home runs in loss to Orioles
Buehrle gives up three home runs in loss to Orioles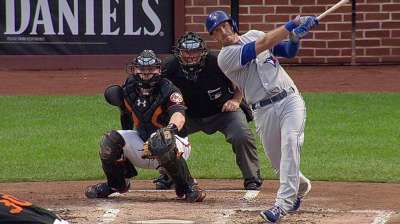 BALTIMORE -- The Blue Jays said they'd like to reach the .500 mark by the All-Star break, and knew they needed a road sweep of the Orioles to get it done. An even record and rested bodies after the break could have been a figurative fresh start for the club sitting in last place in the AL East and in need of a kick start.
But Friday's 8-5 loss in the series opener at Camden Yards makes that mathematically impossible. Toronto dropped to four games below the mark (44-48) with two to play before the break. It's the eighth consecutive season the Blue Jays will enter the All-Star break without a winning record.
Mark Buehrle gave up eight earned runs -- his most since July 12, 2009, with the White Sox -- in six innings to the homer-happy Orioles.
"We came out today and scored a few runs early and I gave them right back, which is something you can't do as a starting pitcher," Buehrle said. "Any time your offense is struggling and you do that, it almost has a reverse effect and puts us in a deeper hole. So I didn't do my job tonight."
The Blue Jays took a 2-0 lead on J.P. Arencibia's two-run shot in the second, but Buehrle couldn't keep the Orioles' power combination of Chris Davis, Adam Jones and J.J. Hardy in the ballpark, and it burned him.
The Orioles came right back off Buehrle in the bottom of the second to tie it. Jones hit a leadoff double to the right-field corner, and the next batter, Davis, hit his 35th homer of the year. This one came on a 1-2 fastball, and left the park to Davis' opposite field in left.
"Obviously it was a bad pitch to Davis in the second inning. But if it was anybody else, they don't hit that ball out," Buehrle said. "That's why he's so good right now. He's strong as a beast, and he hits balls all over the park."
Buehrle was coming off one of his best starts of the season, when he held the Twins scoreless for seven innings. But Friday's start represented the most runs he's given up in a game while pitching for the Blue Jays. His previous high came when the Rays tagged him for seven on May 6.
The Indians held the Blue Jays without a homer in their three-game series in Cleveland earlier this week, but Toronto hit a pair of long balls in the first three innings on Friday off Orioles starter Chris Tillman. But Tillman finished six innings without allowing another run, and the Orioles' bullpen pitched three innings to close the win.
Adam Lind hit a two-run double in the ninth, prompting Orioles manager Buck Showalter to summon his closer, Jim Johnson, who earned the save with one pitch when Rasmus grounded out to second.
The Blue Jays are second in baseball with 114 home runs. They trail only the Orioles, who have 128.
But the home run tally that mattered on Friday was 3-2, and that count also favored the Orioles.
"They've been swinging the bats well all year," Tillman said of his offense, which helped propel him to his 11th win of the season. "You got to give them credit. These guys go up there grinding every at-bat. And it's fun to watch. Even defensively, these guys are playing well right now."
Edwin Encarnacion hit a solo homer to left in the third, a line drive that left in a hurry for his 24th of the year to temporarily put the Blue Jays up, 3-2.
But Jones swung the pendulum back in favor of the Orioles with a two-out, three-run homer off Buehrle in the bottom of the inning. Buehrle quickly retired the first two batters of the inning, but back-to-back singles by Nick Markakis and Manny Machado brought Jones to the plate. His 17th of the year gave the Orioles a 5-3 lead.
Another big blow for the Orioles came in the sixth. Jones and Davis singled to put runners on first and second, and then Hardy crushed Buehrle's 2-1 offering deep to left field. The trio of Hardy, Jones and Davis have combined for 68 home runs this season, and the three All-Star starters were enough to beat Buehrle.
"Yeah, that's what they do, and in a great park to hit home runs," manager John Gibbons said. "Yeah, we hit two homers, but they had the two big three-run ones. That's going to happen [at Camden Yards].
"[Buehrle] gave up three home runs, but you're going to have games like that here. You've just got to slug it out with them and we didn't."
The Blue Jays have now lost 10 of their last 13 games at Camden Yards dating back to last season, and have fallen four games below .500 for the first time since June 16.
"I can't just come out and analyze the whole reason why we haven't been winning as many games that fast," said Jose Bautista after going 0-for-5 with four strikeouts. "We've been inconsistent and we haven't played up to our capabilities, and that pretty much sums it up."
Derek Wetmore is an associate reporter for MLB.com. This story was not subject to the approval of Major League Baseball or its clubs.