Fister rides five-run first to victory over Rangers
Fister rides five-run first to victory over Rangers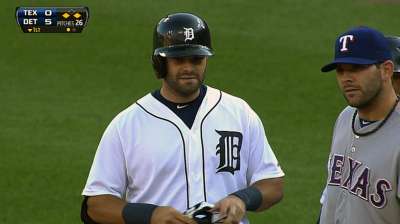 DETROIT -- Doug Fister was as cool as a cucumber, but the Tigers' bats were hot as they scored seven runs in the first two innings of a 7-2 victory against the Rangers on Friday night at Comerica Park in front of a sold-out crowd of 41,686.
Fister allowed two runs on eight hits in six innings while striking out five. He gave up six earned runs in each of his last two starts.
The win was Fister's first since June 16 and only his second since May 14. Despite several good outings in between, the Tigers haven't provided him with much run support.
"It felt good to be able to go out there and get some runs for him early so he can just calm down, settle down and throw strikes," Torii Hunter said. "That's what he did today. He was poised, he gave up two runs, but at the same time, he looked totally different than when he had to go out there and fight when we weren't giving any run support."
The Tigers went to work on Rangers starter Justin Grimm in the first inning, as the first six batters reached base. Austin Jackson and Hunter hit back-to-back doubles to start the game, while Jhonny Peralta punctuated the five-run inning with a two-run double.
Detroit extended its lead to 7-0 with two more runs in the second. Jackson and Hunter both reached on singles before Miguel Cabrera brought home Jackson on a sacrifice fly for his 95th RBI.
Victor Martinez extended his hitting streak to 14 games with an RBI double in the second inning, batting .446 during that stretch with 10 runs scored and nine RBIs.
"We came out aggressive, and we came swinging," Hunter said. "The last time we faced [Grimm] in Texas, we didn't know much about him. We were taking pitches, he was getting ahead in the count. This time, we just had a different attack plan, and we went out there, swung the bats and got him early."
Fister ran into trouble in the fourth inning after A.J. Pierzynski hit his ninth home run of the season and Jurickson Profar delivered an RBI single. The Rangers loaded the bases in the frame, but Fister escaped the jam by striking out David Murphy.
"There were a couple of innings where he was fighting his own mechanics a little bit," catcher Alex Avila said. "There were some innings where his sinker was really good, some that it wasn't. We had to make adjustments on the fly there, and he was able to make the pitches he had to."
Fister was able to throw 17 of his 26 curveballs for strikes, using it more effectively as the game wore on.
"That's Fister," Pierzynski said. "He throws the ball over the plate, doesn't walk anybody, changes speeds, comes at you with that high angle, and his motion is very deceptive."
Bruce Rondon replaced Fister in the seventh and pitched a perfect 1 1/3 innings with two strikeouts. All 10 of his pitches were strikes.
"That's probably his best outing and you can't get any better than that," Avila said. "He threw the ball well. It's not something that you'll see every single time out there, but it's good for him. He's done well since he's come back [from the Minors] and I'm very happy and proud of him, because he's worked hard."
Rondon was able to throw all of his pitches -- fastball, changeup and slider -- for strikes, which led to hitters being unable to focus on hitting his fastball.
"Success builds confidence," manager Jim Leyland said. "It breeds confidence. I'm thrilled with him. I don't want to get carried away, there's going to be some bumps and bruises, but he's got the equipment."
Drew Smyly pitched 1 1/3 innings after Rondon, but Joaquin Benoit came on in the ninth inning with two outs and two runners on base. Benoit was able to strike out Nelson Cruz, who was 2-for-4 lifetime against him including a home run.
"I think Benoit might have the best temperament of any pitcher we have on the team," Leyland said. "I think he's pretty even-keeled."
Against a top team in the American League, this was the type of game plenty of people were hoping to see this season from the Tigers. The offense scored plenty of runs, the starting pitching gave opposing hitters fits, and the bullpen shut the door.
Bobby Nightengale is an associate reporter for MLB.com. This story was not subject to the approval of Major League Baseball or its clubs.