Granderson making progress, but work remains
Granderson making progress, but work remains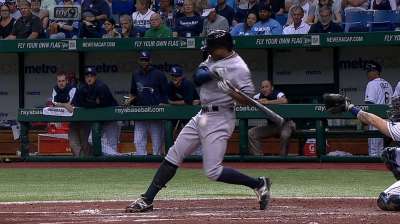 NEW YORK -- Curtis Granderson is not yet ready to begin a rehab assignment.
Yankees general manager Brian Cashman said that Granderson -- who has been running, fielding and taking swings underwater in Tampa, Fla. -- took dry swings for the first time on Thursday.
Cashman wasn't sure if Granderson swung a broomstick or a bat -- he had not gotten the full report -- but it is a sign of progress for the outfielder, who has been on the disabled list since May 25 with a broken left pinkie.
Manager Joe Girardi and Cashman have both said that Granderson could return before the end of July, but he still has some work to do before he reaches that point.
"He's not even taking batting practice yet. He wasn't hitting off the tee yet," Cashman said. "He was doing swings in the pool, then I think yesterday was potentially the first day for him doing stuff [in the] open air."
Josh Vitale is an associate reporter for MLB.com. This story was not subject to the approval of Major League Baseball or its clubs.