Padres' early lead doesn't hold up vs. Giants
Padres' early lead doesn't hold up vs. Giants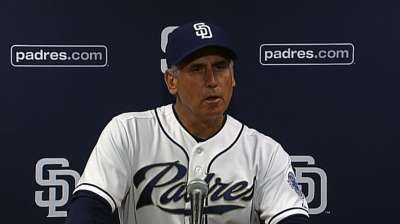 SAN DIEGO -- The losses continue to pile up for these Padres, though manager Bud Black is adamant that all is not lost -- not with this team and not with this season.
"That's the mindset, that things are going to get better," Black insisted before the game. "... The worm is going to turn."
But when?
For a brief period Thursday, it looked as though the Padres' luck might change as they scored two runs in the first inning against Giants pitcher Madison Bumgarner, who settled down and helped the Giants to a 4-2 victory over San Diego at Petco Park.
If the worm is going to turn, it better happen fast for the Padres (41-52), who have dropped 16 of their last 19 and 12 of their last 13 games and have three games left in the first half to try to reverse this perverse stretch before the All-Star break.
"We just couldn't muster anything," Black said, specifically talking about his team's offense, though he could have been talking about the last three weeks.
In a tied game, the Giants (41-50) forged ahead with two runs in the eighth inning off Padres reliever Luke Gregerson (4-5), as Gregor Blanco had an RBI double and Buster Posey later added a run-scoring single.
Early in Thursday's game, though, it was a different story.
With one out, Chris Denorfia and Chase Headley singled and an RBI double by Carlos Quentin made it 1-0. Two batters later, a second run scored on a ground ball by Kyle Blanks.
"You could tell [Bumgarner] wasn't quite on the mark right out of the chute. But we couldn't get the big hit. Then he settled in. He was mixing his pitches. He's got good stuff," Black said.
But if Bumgarner (10-5) looked the least bit vulnerable early, he was anything but exposed thereafter, as he retired 16 consecutive hitters from the first inning until Quentin lined a single into left field with two outs in the sixth inning.
Bumgarner didn't pile up the strikeouts in that consecutive-outs streak (four), though he was able to get balls in play for outs in early counts. There were seven ground balls in that blissful stretch, which is why he was able to pitch so deep into the game.
"They still hit some balls hard [after the first inning]. They just happened to be at one of our defenders, so it worked out in my favor," Bumgarner said.
All told, Bumgarner allowed two runs on four hits in seven innings with one walk and six strikeouts. The walk was intentional.
San Diego starting pitcher Jason Marquis, in his fifth bid to win his 10th game of the season, looked to be on his way early. But his path, ultimately, was the polar opposite of Bumgarner's, as he threw well early only to struggle as the game wore on.
"I felt pretty good with my command early. I was able to get a lot of ground balls [nine] and I was able to attack the bottom of the zone," Marquis said. "I thought I was executing the way I wanted to."
First, he allowed a double in the second inning, then two singles in the third inning. Pablo Sandoval hit a home run to start the fourth, cutting the lead to 2-1. Two innings later, Marquis was gone, yielding a run as four of the first five baserunners reached.
The home run to Sandoval came on a 2-2 sinker that was way down in the strike zone. Sandoval hit it out of the ballpark anyway. Marquis allowed two runs on seven hits in 5 1/3 innings with two walks and three strikeouts.
"With Sandoval, it can come anywhere. He's one of the true bad-ball hitters. He's always a threat," Black said.
In that sixth inning, Marquis struck out Posey and then allowed a walk to Sandoval, a single to Hunter Pence and a walk to Brandon Belt that loaded the bases. Finally, a single to center field from Kensuke Tanaka tied the score.
Black went to his bullpen again, this time calling upon left-handed specialist Joe Thatcher to face the left-handed-hitting Brandon Crawford. Crawford tapped a ball in front of the mound that Thatcher made a nice play on, as he threw home just in time to get the force. Reliever Dale Thayer got the final out of the inning, striking out Bumgarner.
"The way I fall off the mound, I didn't see much of it," said Thatcher, who falls off to the first-base side of the mound, his back nearly turned to the plate.
Corey Brock is a reporter for MLB.com. Keep track of @FollowThePadres on Twitter. This story was not subject to the approval of Major League Baseball or its clubs.