Brewers unable to make early homers stand up
Brewers unable to make early homers stand up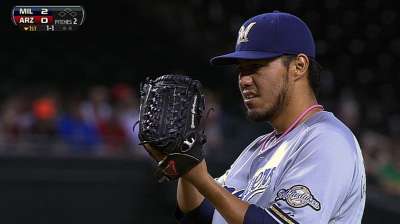 PHOENIX -- Standing in front of his locker in a quiet, dejected clubhouse, one word resurfaced over and over again as Yovani Gallardo attempted to explain his club's defeat: frustrating.
The Brewers outhit the D-backs by four on Thursday night but issued six walks and were on the wrong side of a couple of momentum-shifting plays, including a go-ahead two-run single off the bat of Martin Prado in the eighth as Milwaukee blew a three-run lead and fell, 5-3, at Chase Field.
The loss marked Milwaukee's fourth straight against Arizona this season with the Snakes sweeping an earlier series at Miller Park.
"It's just frustrating," said Gallardo, who took a no-decision Thursday. "But that's how things are going."
Tied at 3 in the eighth, Jim Henderson walked the bases loaded then surrendered the big hit to Prado with two outs in the frame.
"We needed to go down to him and the ball was left up," Henderson said. "He was aggressive and took advantage of the opportunity."
Said Prado, "In that situation I was ready to attack. I was looking for a good pitch, not trying to do too much. I was trying to make sure that I stayed through the ball and thinking to the middle or the other way and he gave me a good pitch to hit and I hit it right through the middle."
Henderson, who entered the game with a 1.95 ERA this year, had given up multiple runs in only one outing this year prior to Thursday. By the time the frame came to an end, Henderson had issued four free passes. He walked a total of four in all of June.
"I'm the type of guy that when my timing is off, the ball is pretty erratic," he said. "My arm felt good, it was just one of those outings where I kept on trying to make adjustments. Unfortunately, it just wasn't happening tonight."
Ahead 3-0 in the fifth, the Brewers' other vexing moment came with two outs and runners on the corners for Arizona. One strike away from escaping the threat, Gallardo threw a pitch down and away to Adam Eaton, who reached for the ball and dropped it into no man's land in the left-center gap for a two-run triple.
"He basically threw his bat at it," Gallardo said. "Then we have two of the fastest guys in center field and left field and it's just out of the reach of both of them. When you see things like that, it's definitely frustrating. I threw it where I wanted to throw it then that happens. It just seems like not the right time for me."
Although he didn't factor into the decision, Gallardo took a step in the right direction with a solid outing following three poor starts in recent weeks. The 27-year-old entered the game having surrendered 15 runs on 23 hits over his previous 13 innings.
Working against one of the teams that has been rumored to be interested in trading for him, Gallardo was much better Thursday, giving up three runs on four hits in six innings. Coming into the matchup with a 1.62 career ERA vs. the D-backs, Gallardo didn't allow a hit until the fourth inning and appeared well on his way to pushing his record against Arizona to 7-0.
But after Eaton's bloop triple in the fifth, Gallardo allowed the tying run to score in the sixth without the D-backs collecting a hit in the inning. A walk to Paul Goldschmidt started the frame, then Arizona's All-Star first baseman came around on a wild pitch, a groundout and Jason Kubel's sacrifice fly.
"I felt good, I had a good curveball, a good slider, it was just the little things tonight," Gallardo said. "I get into trouble on my own and I try to do too much, try to make that perfect pitch to get out of it."
Early on Thursday, the Brewers looked like they might break things open, pounding out seven hits in the first three innings off D-backs starter Wade Miley, but they only converted the barrage into three runs.
The first two came when Jonathan Lucroy launched his fourth homer over his last five games, a two-run shot in the first. Two innings later, Carlos Gomez matched Lucroy with another tape-measure home run, this one a no-doubter deep into the left-field stands for a solo shot.
That was all the Brewers would get off Miley, who quieted the Milwaukee bats following his early struggles, retiring 16 of the final 17 batters he faced with the only exception a Norichika Aoki infield single in the eighth.
"We had a chance to get him early," Brewers manager Ron Roenicke said. "We needed to keep the pressure on, but we scored early then we didn't do anything."
Following Gallardo's exit, John Axford worked a clean seventh before Henderson let the game slip away the next inning. Still, even with the bullpen taking the loss Thursday, Brewers relievers rank fifth in the Majors with a team 2.99 ERA.
"It's going to happen, I don't expect every time we go out there that we're going to put up zeros," Roenicke said. "It shouldn't have come down to that. What it came down to was they got a big hit and we didn't. We had a couple chances and we didn't get big hits."
Tyler Emerick is an associate reporter for MLB.com. This story was not subject to the approval of Major League Baseball or its clubs.