Vogelsong has first session off bullpen mound
Vogelsong has first session off bullpen mound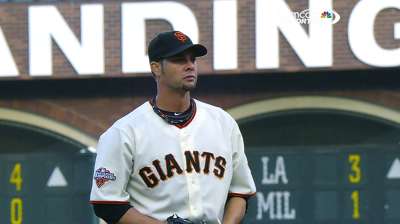 SAN DIEGO -- Ryan Vogelsong's recovery from a fractured pinkie on his throwing hand progressed to another stage Thursday at Petco Park when he threw off a bullpen mound for the first time since sustaining his injury.
"Everything felt pretty good," said Vogelsong, who was hit on his right hand by a pitch from Washington's Craig Stammen on May 20.
Vogelsong threw 30 pitches, all fastballs, and reported that he was sharper than he would have felt during a comparable session early in Spring Training. He still might need at least three additional weeks of preparation before he can resume pitching competitively.
Vogelsong, who's renowned for his competitive fire, has tried not to let the Giants' slump affect him adversely.
"I wish I could get back out there tomorrow," he said. "At the same time, I have to be smart about this and do what they [the medical staff] tell me to do and make sure I'm ready to go when it's time. This game is hard enough to play when you're healthy, let alone trying to do it when you don't feel right."
Chris Haft is a reporter for MLB.com. This story was not subject to the approval of Major League Baseball or its clubs.