Zimmermann outdueled as Nats drop finale
Zimmermann outdueled as Nats drop finale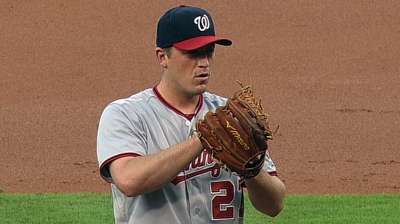 PHILADELPHIA -- The Nationals couldn't take advantage of the opportunities given to them on Thursday night, losing to the Phillies, 3-1, at Citizens Bank Park. Washington dropped three out of four games to Philadelphia to put the club's record at 47-45. A year ago, the Nationals were 53-39 after 92 games.
Manager Davey Johnson continues to be optimistic that his team can turn the season around.
"I love this team. We have a long way to go. A lot of guys are getting where they need to be," Johnson said. "It was a tough ballgame. All these ballgames are tough. Just a little break here and there, we could have won three out of four. I like the way guys are grinding. We are going to be fine."
Nationals right-hander Jordan Zimmermann made his 19th start, his last of the first half. He was solid, pitching 6 1/3 innings, allowing two runs on eight hits and striking out six batters. However, Zimmermann continued to have problems with his neck and is considering not going to the All-Star Game. If that happens, it will mark the second consecutive Midsummer Classic in which a Nationals player has dropped out, after shortstop Ian Desmond gave up his spot last year because of an oblique injury.
"[The neck] is a little tight. I've been dealing with that for a while now. But I got it loosened up. It's good enough out there to go and pitch," Zimmermann said. "It's a possibility [that I might drop out of the All-Star Game]. I'm not sure what I'm going to do. We'll see how the next few days go and go from there."
Zimmermann is not sure why he is having problems with his neck, but he continues to have treatment in hopes that the pain will go away.
"I would rather be healthy for the second half than pitch [in the All-Star Game]," Zimmermann said. "I would like to pitch in it. But I'm not going to go out there and pitch an inning, and I have to battle [with the injury] the whole second half."
The Phillies scored their first run off Zimmermann in the fifth inning, when Ben Revere singled to left-center field, scoring Carlos Ruiz.
The Phillies plated the winning run in the bottom of the seventh. Darin Ruf led off with a double. John McDonald, pinch-running for Ruf, advanced to third on a sacrifice by Ruiz. Pinch-hitter Kevin Frandsen hit a fly ball to center field. It looked like Denard Span caught the ball, but he dropped it at the last minute, scoring McDonald to give Philadelphia a 2-1 lead.
"It was a tough play, period. I just missed it, though," Span said.
"As Walter Alston would say, when guys can win games like that for you, three or four, maybe five, he's already had a good year pinch-hitting. He's done a good job,' Phillies manager Charlie Manuel said of Frandsen.
It was game that saw the Phillies commit four errors -- three by Chase Utley -- but the Nationals were unable to capitalize on those miscues. The Nationals went 1-for-4 with runners in scoring position.
"They made a bunch of errors, and we couldn't capitalize [on them]," Johnson said.
"We weren't able to score any runs. Every time we had an opportunity, we'd shoot ourselves in the foot," Desmond said. "But we keep taking steps in the right direction. That's all we can really do at this point."
Washington scored its lone run in the top of the sixth inning against right-hander Kyle Kendrick, who went seven strong innings. With one out, Bryce Harper hit a fly ball to deep-right field. It looked like Delmon Young might have had a shot to catch the ball, but it bounced past him for a triple. Ryan Zimmerman followed with a sacrifice to Young in right field, scoring Harper and tying the game at 1.
"We saw a lot of changeups, cutters, a couple of sinkers, but mostly offspeed stuff," Desmond said of Kendrick.
The Phillies scored their final run in the top of the ninth inning. With the infield in, Drew Storen on the mound and Utley on third, Michael Young hit a hard shot to second baseman Anthony Rendon, who made a diving grab, but was unable to throw out Utley at the plate. The run was charged to Ian Krol.
Bill Ladson is a reporter for MLB.com and writes an MLBlog, All Nats All the time. He also could be found on Twitter @WashingNats. This story was not subject to the approval of Major League Baseball or its clubs.