Dickey's hiccup, lack of offense costs Blue Jays
Dickey's hiccup, lack of offense costs Blue Jays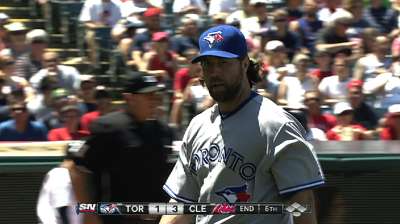 CLEVELAND -- The Blue Jays are just a few days away from the All-Star break, but their offense seems to have taken a premature hiatus.
Toronto entered a three-game set in Cleveland desperately needing a series victory. The goal was to reach .500 before the four-day break, but that benchmark just got a lot tougher to reach.
The Blue Jays went hitless through the first five innings against rookie right-hander Danny Salazar, while knuckleballer R.A. Dickey allowed three runs (two earned) in a 4-2 loss to the Indians on Thursday afternoon at Progressive Field.
"We're right on that edge," Blue Jays manager John Gibbons said about the risk of falling out of contention in the American League East. "We have to start winning some games. We have three more before the break, but Baltimore has a pretty darn good team, too, and it's in their home park. We didn't hit any home runs in this series. You look at it -- when we win, we hit home runs."
The Blue Jays' recent struggles have mostly been tied to their starting rotation, but that wasn't the case in Cleveland. Josh Johnson, Esmil Rogers and Dickey combined to allow just five earned runs on eight walks and 20 strikeouts in the three games.
But the offense didn't live up to its end of the bargain. Toronto was held to just seven runs and is struggling at a time when the club needs to go on a run to get back into the race. That was the case again on Thursday, as the Blue Jays were unable to take advantage of Salazar, who was making his Major League debut.
Toronto didn't record a hit until Josh Thole led off the sixth with a single to left field. Two batters later, Jose Bautista lined a two-out double down the left-field line to plate Thole. It was the only rally the Blue Jays would be able to put together against the inexperienced 22-year-old.
Salazar allowed just the one run and two hits over six overpowering innings of work. He walked one batter while striking out seven after entering the game as Cleveland's No. 8 prospect according to MLB.com.
"He has a good arm. He made some good pitches," Gibbons said. "He has a nice little breaking ball that's tough to lay off. It comes in there and has a pretty good little drop to it. I'm not going to take anything away from him. He was pretty darn good."
With the offense struggling to score runs, the margin of error on the mound for Toronto's pitchers has been microscopic. Dickey was effective for most of the afternoon, but a couple of lapses was all it took to suffer his 10th loss of the season.
The knuckleballer was solid through five innings, but began to lose command of the strike zone in the sixth. He hit the first batter of the frame and then proceeded to walk two of the next three batters.
The 38-year-old then surrendered a weak blooper to left field off the bat of Lonnie Chisenhall. That was enough to easily score Michael Brantley from third base, but Blue Jays outfielder Rajai Davis thought there could be a close play at the plate. Davis charged and unleashed a wild and ill-advised throw that sailed well over the head of Thole.
That allowed another run to score, and the Indians appeared ready for a big inning, but Dickey managed to strike out the next two batters he faced to escape the frame. Dickey was charged with two of the three runs on six hits, while striking out seven and walking three.
The sudden loss of command in the sixth will be what Dickey ends up regretting the most. He had similar issues earlier in the season. He averaged 4.1 walks per nine innings in his first 11 outings, but since that point, he had lowered the number to 2.2.
"The one I threw that hit Brantley -- it just took off. It went straight left, got halfway to the plate and then decided it was going to take a left turn," Dickey said. "It wasn't a bad knuckleball -- didn't have any spin on it -- but for whatever reason, in that moment, it went into him rather than straight down. The walk to [Ryan] Raburn was the one at-bat the whole day I wish I had back."
Dickey's first half has now officially come to an end. Much like the Blue Jays' season, it has been an up-and-down affair that had an equal number of highs and lows. Dickey had a 5.18 ERA at the end of May, and since then, he had three starts in which he allowed at least six earned runs, but in the other five, he allowed a total of five earned runs.
There have been some encouraging signs, and it's something that Dickey hopes he can build on after the All-Star break.
"The last four weeks, five weeks, I really felt good," Dickey said. "Statistically, I think I've had one rough start in there. I gave up six a start ago to Minnesota, but other than that, the last five weeks, I've really felt good. I anticipate it being a pretty strong second half for me."
The Blue Jays dropped back to three games below .500 (44-47) with their latest loss. The team's previously stated goal was to reach .500 by the All-Star break, but the only way that can happen now is if they sweep the Orioles in their upcoming series.
Gregor Chisholm is a reporter for MLB.com. Read his blog, North of the Border, and follow him on Twitter @gregorMLB. This story was not subject to the approval of Major League Baseball or its clubs.